Russian higher education administrators at IU to improve international exchange programs
Center at IU School of Education hosting Fulbright program participants
Eight administrators of international higher education programs across Russia are at Indiana University Bloomington for a month to learn more about building their own scholar exchanges. They are part of the Fulbright Russian International Education Administrators program, an annual professional training program initiated by the U.S. State Department in 2007.
Indiana University is the selected university partner for the program this year. The Center for International Education, Development and Research at the IU School of Education is organizing IU's portion of the program.
"The RIEA Fellows are engaging with IU's faculty, administrators, staff and students through an intensive academic program to hone their professional skills set in working with international students from around the world and the U.S.," said Patty Kubow, director of the Center for International Education, Development and Research and professor in educational leadership and policy studies and curriculum and instruction at the IU School of Education. "Specifically, the program that CIEDR has designed provides critical knowledge in the areas of academic placement, internationalization and strategic implementation, and cross-cultural opportunities and challenges."
The Russian fellows arrived at IU on Jan. 17 and will be in Bloomington until Feb. 15. Overall, the program lasts three months. After they leave IU, the participants travel with Kubow to the Association of International Education Administrators conference in Washington, D.C., and then go individually to other U.S. colleges and universities for practicums in international student offices.
"If there are universities in the U.S. that their home institutions have a relationship with, they'll have an opportunity to go and visit those campuses," said Kristina Hestvik, the program officer at the Institute of International Education overseeing Foreign Fulbright programs. "They'll spend one week as a networking week, and then each will have a four-week practicum at a host U.S. university."
During their time at IU, they'll learn much about how the university handles international exchanges. They will spend considerable time in IU's Office of Overseas Study and the Office of International Services. Faculty from the School of Education, School of Global and International Studies and other areas will discuss studies and programs that enhance international partnerships.
This sort of information is key for the Russian administrators, who all hope to attract more foreign students, particularly from the U.S. 
"My city is situated in the far east of Russia," said Olga Us, head of the International Students and Scholars Division at Vladivostok State University of Economics and Service. Because of the institution's geographic location, which she describes as much closer to China, Japan and South Korea than Moscow, the majority of foreign students come from parts of Asia.
"This academic year, we have about 400 students, most of them from China," Us said. "And we have very little experience working with United States students, and this semester we have only three from the U.S. I hope my participation in this program will help me to better know how U.S. students live, study, and other things they do."
Olga Mukhina is hoping to attract U.S. students to Kaliningrad, which she describes as "the Russian Alaska," because it is away from the rest of contiguous Russia, on the Baltic Sea between Poland and Lithuania. Mukhina is a specialist in the Office for International Students and Protocol at the Baltic Fishing Fleet State Academy, part of Kaliningrad State Technical University. She is seeking partnerships with other maritime institutions and will be visiting colleges in New Jersey and Florida during the program.
"It will be interesting to get to know from our colleagues here in the universities what can be done," Mukhina said, "how to attract foreign students. We all deal with much of the same troubles sometimes, and we can learn to tackle them and find friends here."
Yulia Papanova will travel to an institution in Alaska, hoping to forge relationships with institutions that have programs focused on the petroleum industry. Papanova heads the international office at Yugra State University in Khanty-Mansiysk, an oil boom town in north central Russia.
"The region that I'm from produces half of Russian oil, so we're quite a wealthy region, but not very popular," she said. "I want to attract scholars who are doing something with petroleum, with ecology, with indigenous studies."
While here, the participants will visit other Indiana higher education institutions. They visited IUPUI last week. They'll travel to Ball State University next month and also see the Ivy Tech Bloomington campus. Aside from the academic and administrative work, they're also getting a good taste of U.S. and Hoosier culture, with scheduled events including IU men's basketball, a John Mellencamp concert and opera and theater.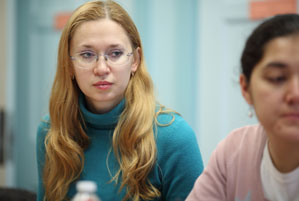 Olga Us of Vladivostok State University of Economics and Service listens during a session on international strategic planning at IU's East Asian Studies Center.