IU School of Education professor Bonk climbs list of education discourse influencers
An Indiana University education researcher and author has climbed the annual Education Week listing of the top contributors to public debate about education.
Curt Bonk, faculty member at the Indiana University School of Education, is ranked No. 74 in the Edu-Scholar Public Influence Rankings. Bonk has been listed in the rankings of the top 200 most influential scholars of education in all four years of the rankings. The 2015 rankings reflect influence in 2014. Bonk ranked 85 in last year's listings.
The rankings are the creation of education researcher and author Rick Hess, who posts them on his Education Week blog "Rick Hess Straight Up." He describes the rankings as a way to recognize university-based scholars contributing most substantially to public debates about education.
Annually, Hess and research assistants measure output of articles, books and academic scholarship, as well as Web and print media activity. The total score comes from Google Scholar citations; the number of books authored and co-authored; the ranking of books on Amazon.com; mentions in Education Week and The Chronicle of Higher Education; blogs; U.S. newspapers; and the Congressional Record.
Bonk travels the world to discuss the changing nature of education and technology, particularly focusing on how to best use technology to teach. He is a professor of instructional systems technology, educational psychology and cognitive science at the IU School of Education and adjunct instructor for the School of Informatics.
In addition to authoring 10 books and hundreds of articles on education and technology, Bonk has delivered more than 1,400 presentations on the subject, including keynote and invited talks during the past year in Vietnam, Thailand, Singapore, Finland, Spain, Wales and England. Among these were featured presentations on MOOCs and open education at the University of Cambridge and University College London in late June.
In May 2014, Bonk published his latest book, "Adding Some TEC-VARIETY," co-authored with Elaine Khoo, a research fellow at the University of Waikato, Hamilton, New Zealand. "TEC-VARIETY" is an acronym for a framework of 10 motivational principles Bonk introduces to help teachers guide learners through learning with technology. This work follows his book "The World Is Open: How Web Technology Is Revolutionizing Education," and itself adheres to the idea of making resources for education openly available on the Web. In fact, the new book is available for free at tec-variety.com and has already been downloaded more than 30,000 times.
"This book helps people in the trenches figure out what they might be able to do with these emerging technologies," Bonk said. "The TEC-VARIETY framework helps them make pedagogical sense of what's possible."
The book details more than 100 unique activities for motivating and retaining students with online technology. Bonk also includes a chapter near the end on ways to support instructors who might be more hesitant or unaware of the online and blended learning opportunities available today. Acknowledging the rapidly changing landscape of learning technology, he said the TEC-VARIETY framework is a useful tool no matter how technology develops.
"People can take this with them maybe even after we move from the Web to something else," he said. "It's still a framework about education and teaching and quality instruction."
Bonk has been honored many times for his work. In November, he was awarded the Outstanding Contribution to Education award from the Global Learn Tech Conference in Mumbai, India. In August, he received the Mildred B. and Charles A. Wedemeyer Outstanding Practitioner in Distance Education Award from the University of Wisconsin-Madison as part of the 30th Annual Conference on Distance Teaching and Learning.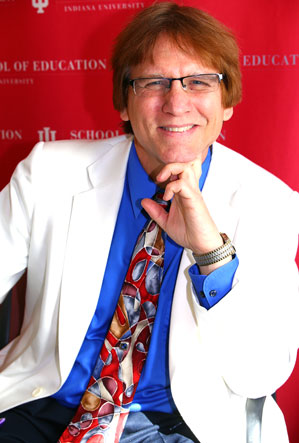 Curt Bonk, professor of instructional systems technology