Kickoff held for Harmony-Meier Institute
Planning begins for new center sharing Deborah Meier's vision with School of Education students
Work is underway for the Indiana University School of Education's planned "Harmony-Meier Institute for Democracy and Equity in Education," marked by a kickoff event held on Wednesday, May 28 in Indianapolis. The institute is a collaboration between the School of Education, the Harmony Education Center in Bloomington, and the Lilly Library at Indiana University.
Deborah Meier is a school reform pioneer and MacArthur fellow whose ideas have heavily influenced schools around the country.  For almost five decades she has been a teacher, writer and advocate for small schools that are self-governing and democratic with most decisions made by families, teachers and parents in those schools. She donated her papers to the Lilly Library in 2009.
The Harmony-Meier Institute will formally begin in spring 2015 with an event in Bloomington featuring Meier. The institute is dedicated to preserving Meier's legacy by continuing her groundbreaking work to incorporate social justice, equity, and democracy into American education.
The Harmony Education Center in Bloomington was founded in 1974 on many of those same ideals. Its mission is to "prepare young people to live in and contribute to a heterogeneous democratic country by sensitizing young people to the delicate balance needed in a democracy between individual growth and community responsibility."
During the special event held at the IU Foundation's Indianapolis office, Dean Gerardo Gonzalez shared plans for the institute, which will be housed at the INSPIRE Living Learning Center. The INSPIRE Living-Learning Center, which is housed in the new Rose Residence hall next to the IU School of Education, is intended to bring together particularly creative, talented and motivated education students who want to complement their academic requirements with out-of-class experiences designed to enhance their teacher preparation. Director of INSPIRE, James Damico, explained how the new center will work to expand School of Education students' understanding of teaching by working directly with Harmony School through service-learning opportunities and other connections. Meier herself plans to meet with INSPIRE students during a visit next spring.
Steve Bonchek, the executive director of Harmony Education Center also spoke about what the center will mean for his school. Former first lady of Indiana University Pat Ryan also shared her hopes for the institute. Ryan was key in obtaining Meier's papers for the Lilly Library.
To find out more about the Harmony-Meier Institute and how you can help, contact Joe Kantor, the director of development and special gifts at the IU School of Education.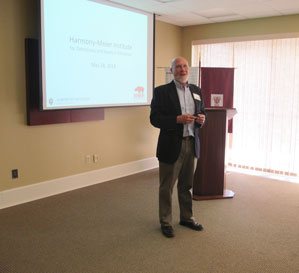 Steve Bonchek, the executive director of Harmony Education Center, speaks about Harmony's role in the new Harmony-Meier Institute.