Martinsville eighth grader wins regional spelling bee
(Article courtesy the IU School of Journalism)

By Claire Aronson

For Alexandria Wilt, an eighth grader at Martinsville East Middle School, the fourth time was the charm.

Wilt was the champion of the third annual IU Bee, co-sponsored by the School of Journalism and the School of Education, Saturday at the Monroe County Public Library auditorium. By spelling the final word, "nachtmusik," Wilt secured her spot to compete in the Scripps National Spelling Bee in Washington, D.C., in May.

"I wanted to scream," Wilt said of realizing she was the only remaining speller. "I was really happy. I was doing this for a long time."

This was her fourth time competing at the regional spelling championship. The last time she participated was when she was in sixth grade, when she placed fourth. Wilt won her school spelling bee two weeks ago, which qualified her to compete at the IU Bee.

Wilt said she would rate the words she spelled Saturday with a five on a scale of 10 in difficulty.

"When I see a word, it sticks in my head," she said. "It is kind of photographic."

The new regional champion studies nightly. To prepare for the national spelling bee championship in National Harbor, Md., May 25-31, Wilt said she will study the dictionary, and spell words she sees on billboards and on menus at restaurants.

As the regional champion, she received a copy of Merriam-Webster's Third New International Dictionary, which she can use to prepare for nationals. In addition, Wilt will receive funds to cover airfare, hotel accommodation, some meals and incidental travel expenses for herself and a parent or guardian who will accompany her to the national bee. She also received a one-year subscription to Britannica and won the Samuel Lewis Sugarman Award.

Wilt's father, Chris Wilt, said the family hasn't decided who will travel with her to D.C. for the championship. For now, her parents are celebrating their daughter's win.

"We are so proud," said Cindy Wilt, her mother. "She gives 110 percent, and put all the time into it. We couldn't ask for any more."

Friday night, Wilt asked her parents to conduct a mock spelling bee in their living room to prepare for the regional bee. Cindy Wilt said her daughter even wore a number around her neck.

"She is an overachiever in everything she does," Cindy Wilt said. "She strives to do the best in everything she can do."

In addition to Wilt, 26 other spellers through grade eight who won spelling bees at their schools in Monroe, Morgan, Brown, Owen and Greene counties competed.

Journalism Professor Emeritus Jack Dvorak, journalism communications director Anne Kibbler and journalism Web editor Gena Asher served as judges. Allan Murphy, a Bloomington Township and Herald-Times retiree, was the bee's pronouncer for the 11th year. Several Journalism Ambassadors and members of the School of Education's Dean Advisory Council helped set up the auditorium, and directed the spellers on and off the stage.

IU High School Journalism Institute director Teresa White coordinates the bee with School of Education communications director Chuck Carney. Several School of Journalism staff also play key roles in organizing the event.

The Scripps National Spelling Bee provides the list of words, most of which competitors have in advance and use as study aids. Spellers performed so well that, after round eight, the judges asked Murphy to advance to more difficult words in the word list.

"We're moving ahead in the word list," Murphy told the spellers. "You are too good." He also moved ahead after round 12.

Coordinator Teresa White said this reflects the spellers' hard work.

"It seemed like this year, the three remaining on stage were pretty evenly matched," she said of the last few minutes of the round, when the contestants faced words such as "verboten," "nemesis" and "recidivist."

Jacob Lacanienta, a fifth grader from Summit Elementary School in Bloomington, was the runner-up and received a copy of the Merriam-Webster's Collegiate Dictionary, 11th edition. All spellers received a gift basket with items from the IU Bee's sponsors: Bloomington Bagel Company, Hartzell's Ice Cream, IU Credit Union, Sugar & Spice and Sodexo Dining Services.

Wilt is looking forward to traveling to the nation's capital for the first time. She said she always looked up to a previous two-time regional champion from her school.

In previous years, Wilt has watched the national championship on ESPN on TV, spelling along with the spellers.

"I like to see how I compare to them," she said.

Wilt has been involved in spelling since she was very young, Cindy Wilt said. She is on her school's Academic Spelling Bowl team that won the state title at Purdue University.

White said it is rewarding for the School of Journalism and School of Education to see a student come back year after year to compete, and watch them grow both emotionally and physically.

"We know it's something they've stuck with and enjoy," she said.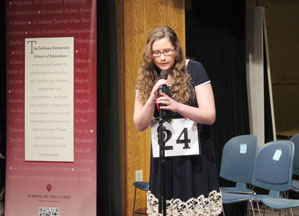 Alexandria Wilt, an eighth grader at Martinsville East Middle School, won the IU Bee, the regional competition for the Scripps National Spelling Bee. She'll compete in the national bee in May. (Photo by Beth Patton)