Two School of Education faculty, grad student, earn prestigious Mellon awards
Grants for international teaching and research
Two Indiana University School of Education faculty and one graduate student are among eight faculty and seven graduate students on the IU Bloomington campus to receive 2013-14 Mellon Innovating International Research, Teaching and Collaboration awards.
The MIIRT program, now in its second year, is funded through a $750,000 award from the Andrew W. Mellon Foundation. The award supports a three-year program to foster new directions in international and area studies that include collaborations among faculty in the humanities, social sciences and professional schools throughout the Bloomington campus. It also offers opportunities for faculty and students to collaborate.
There are four specific funding opportunities offered through the MIIRT program: faculty short-term fellowships, graduate short-term fellowships, curriculum development fellowships and innovative workshops. In its first year, the program awarded $245,000 to 17 recipients.
Professor and Otting Chair in Special Education Erna Alant and Beth Samuelson, assistant profesor in the Department of Curriculum and Instruction and Department of Literacy, Culture and Language Education, earned a grant for innovative curriculum with their proposal "Bridging Differences: The Art and Science of Empathetic Communication." Katherine Cierniak, a graudate student in Education Policy Studies, earned a graduate student short-term fellowship for her project "Education in Dhaka's Slums: Understanding Educational Opportunities and School Choice in Urban Bangladesh."

Lauren Robel, provost of the IU Bloomington campus and IU executive vice president, serves as principal investigator on the Mellon grant.
"At a time when federal funding for international research and teaching has been decreasing, the Mellon funding has provided an important boost to our graduate students and faculty -- particularly pre-tenure scholars," Robel said. "We're very excited about the progress of the program so far and look forward to the outcomes of this second round."
The international regions covered by the awarded projects include South Africa, Bangladesh, Korea, China, Jordan, India, Kenya, Zambia, Tibet, England, El Salvador, Haiti, Latin America, the Dominican Republic and the Middle East.
"The range of schools, disciplines and international areas of focus involved in this round of the MIIRT program continue to speak to the remarkably rich collaborations the Mellon funding is making possible," said Sarita Soni, co-principal investigator on the project and vice provost for research on the IU Bloomington campus.
Other IU 2013-14 Mellon Innovating International Research, Teaching and Collaboration awards recipients:
Faculty short-term fellowships
Tom Evans, Department of Geography, College of Arts and Sciences, "Food Security and Agricultural Decision-Making in East and Southern Africa"
Laura Foster, Department of Gender Studies, College of Arts and Sciences, "Decolonizing Innovation: Patent Law, Benefit Sharing and the Re-Invention of Nature in Southern Africa"
Jeffrey Gould, Department of History, College of Arts and Sciences, "Port Triumph -- Packinghouse Workers and Fishermen in the Rise and Fall of the Shrimp Industry"
Graduate student short-term fellowships
Chi-Hoon Kim, Department of Anthropology, College of Arts and Sciences, "National Cuisine as a Nation-Building Strategy: Traditionalist and Globalist Production of a Global Korean Cuisine"
Alissa Davis, Department of Epidemiology and Biostatistics, School of Public Health-Bloomington, "Socio-Cultural Barriers to Health Service Utilization Among Female Uyghur Migrant Workers in Guangzhou China"
Theresa Dazey, Department of History, College of Arts and Sciences, "Cultural Negotiation at the Creation of Jordan: Arabs, Circassians and Empore, 1878-1939"
Kristin Francoeur, Department of Religious Studies, College of Arts and Sciences, "Toward a Re-Evaluation of Gender and Empowerment in 'Development': The Impact of Religion on North Indian NGOs"
Oliver Shao, Department of Folklore and Ethnomusicology, College of Arts and Sciences, "Songs of Encampment: The Transformation of Dinka Song and Dance Practices in the Kakuma Refugee Camp in Kenya From 1992-2015"
Eveline Yang, Department of Anthropology and Department of Central Eurasian Studies, College of Arts and Sciences, "Mapping Citizens, Mapping Tibetans: Geographical Knowledge and the Production of Identity in Tibetan Regions of the People's Republic of China"
Innovative workshops
Deborah Cohn, Department of Spanish and Portuguese and Department of American Studies, College of Arts and Sciences, "Science Fiction in the Americas Workshop (featuring Junot Díaz)"
Danny James, Department of History, College of Arts and Sciences, "From Proletariat to Precariat: Changing Labor Relations in the Twentieth and Twenty-First Centuries"
Kaya Şahin, Department of History, College of Arts and Sciences, "Revisiting the Sunni-Shiite Conflict in the Early Modern Middle East"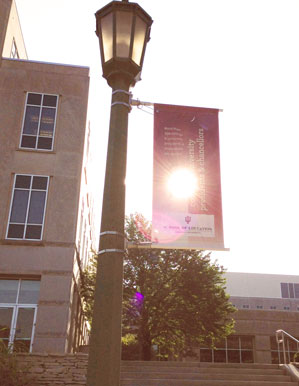 Wright Education Building in Bloomington