Teachers from across the globe conclude Fulbright program at Indiana University
Eleven teachers who came to Bloomington as part of the Fulbright Distinguished Awards in Teaching Program have concluded their visits, completing capstone research projects they presented last week before an audience that included a representative of the U.S. State Department and the Fulbright program.
The presentation brought a close to a semester-long visit that began in mid-August. The teachers from Finland, India, Morocco, New Zealand and Singapore visited and assisted in local schools as they examined various aspects of U.S. education.
The U.S. Department of State Bureau of Educational and Cultural Affairs awarded $224,036 to the Center for International Education, Development and Research at the Indiana University School of Education to serve as the U.S. host university for international teachers in this program. Only one Fulbright Distinguished Awards in Teaching Program grant was awarded to a U.S. university for the 2014-15 program year.
"The local schools in Bloomington and Columbus served as rich environments to promote in-depth learning about education in the U.S." said Patricia Kubow, director of IU's Center for International Education, Development and Research and project director for the Fulbright Distinguished Awards in Teaching Program. Cross-cultural teaching and sharing also occurred as the Fulbright Distinguished Teachers interacted with diverse students and faculty at public schools in Chicago and Indianapolis.
"The IU School of Education faculty served as advisors that aided the progress of the international teachers as they completed their capstone projects," Kubow said. "In addition, the Bloomington World Friendship group provided personal interactions and opportunities for the Fulbright teachers to learn about Indiana through exercusions, home visits, and one-to-one conversations. I am so pleased with the excellence in academic programming and professional and personal growth exhibited by each Fulbright teacher, which speaks to the success of the program we administered."
The Fulbright teacher presentations covered a range of areas chosen by the participants themselves. Petteri Granat, a teacher from Helsinki, Finland, presented his capstone on an elective class the social studies teacher presents back home called "USA! USA!" He said the class is meant to dispel his students' misperceptions of Americans, which are largely based on popular media. Granat spent much of his time gathering information through observations at Bloomington North High School.
Christine Sim of Singapore also observed at Bloomington North, spending much of her time in a chemistry classroom. She said she hoped to learn more about teaching science in engaging ways, something she has emphasized in her own classroom. Sim said she was pleased to see North teacher Mary Jo Fuson conduct many such lessons. She and Fuson exchanged ideas about student engagement during her semester visit.
But Sim added that the IU experience didn't limit itself to school sessions.
"What really impressed me is how holistic the program is," she said. "You realize you learned more beyond attending the classes or going for school observation. It's really true that conversations you have with different people, the opportunities that you have to interact with locals -- be it at a football match or be it at a picnic -- you pick up all the cultural aspects and the dimensions that really make this whole program really enriching for me."
Jeremy Lee, also from Singapore, traveled to St. Louis so he could personally visit with a researcher he has found very influential on his own work. Lee developed a project on character education that he's taking back to Singapore.
Purnendu Chatterjee from India used his semester here to delve into language issues within his own country. His project covered teaching English as a second language. Though English is an official language in India, he said instructors are often teaching it to students effectively as their second language because of the huge number of languages that span the country.
New Zealand teacher Fiona Jeffries also teaches English and said she was struck by the different choices students have in the U.S. with electives that would simply be a part of the English class in her country.
"So journalism is a class here; young adult literature is a class here; creative writing is a class," she said. "I quite like the idea of a student being able to select into an aspect of English." Jeffries created a capstone project on using technology in English classes.
The project continues the legacy of effective international work being done by the Center for International Education, Development and Research at IU, originally the Center for Social Studies and International Education, which started in 1968. Ongoing efforts of the center include development projects focused on expanding education for women in Afghanistan and South Sudan. The center has overseen past exchanges, including one that brought Afghan students to Bloomington. However, this is the first time the center in the IU School of Education has been awarded a Fulbright.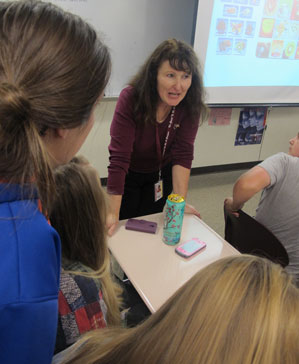 Fiona Jeffries, a Fulbright visiting teacher from New Zealand, presents about her home country to students at Bloomington North High School.