Digital arts now part of the School of Education's Saturday Art School program
The Indiana University Saturday Art School is a Bloomington campus-based program for children aged 5-13. Children have the opportunity to work with a range of visual art materials and techniques through open-ended projects suited to their ages, and to participate in a celebratory exhibition at the end of the session.  Courses are taught by undergraduate and graduate students in the IU Art Education Program, for whom Saturday School is an early field experience focusing on designing visual art learning environments for young children. It is supervised by Art Education faculty and graduate students. In existence for over 35 years, the program is now a Bloomington tradition in which hundreds of local children have participated. It now welcomes the children and even the grandchildren of some of our original participants.
Saturday Art School added Saturday Studio: Digital Design and Creative Exploration as an interest-driven arts environment for elementary-age children (6 to 12 years old) in 2011.  The goal of the studio-styled workshop is to explore interests through making physical and/or digital artifacts. With nearly $10,000 in funding from multiple sources, Kate Shively has directed and facilitated Saturday Studio for the past five semesters. Saturday Studio has been open for limited enrollment with only 10 seats available for a six-session studio program each semester. In all, Saturday Studio has served 50 children since it began.
Inspired by children's interests and curiosities about media art, she collaborated with graduate and undergraduate students, and faculty from several departments across the School of Education to bring this program to the community. It is the only program of its kind in the area – specifically aimed to meet the interests of elementary children. Graduate students from Art Education volunteer as facilitators to work with children as they explore an open-ended problem – "to make something" with the limited resources onsite.
Children have access to digital cameras, computers, iPads, and easily accessible digital media, including: animation software, video editing software, photo editing programs, game design platforms, games, and other digital resources.  In addition, children have access to visual art materials such as clay, pencils, markers, pastels, paper, beads, and other art supplies. Other materials such as Legos, Popsicle sticks, and 3D items (i.e. toilet paper rolls or shoe boxes) are available for physical, 3D building. They have created video games, animations, stop motion animation movies, comics, and 3D digital or physical sculptures to name just a few of their recent artifacts.
At the end of the program, families are invited to an interactive digital media exhibit as a part of Saturday Art School's culminating event. During this show, children share their process and products with their family and friends in an interactive, playful environment – showing their family members how they created their artifacts, highlighting the process.  This semester's gallery was titled "Not Just Play" which shared intricate clay sculptures, photography and movie sets, video games, and imaginary worlds created in Minecraft.  
Children inspire the design of this environment, which means it has changed over time due to how their participation influenced the non-formal curricular offerings. In short, the feedback from the children in this environment shapes the design and implementation of the curriculum.  As a result of the open-ended curriculum, children are able to expand their imaginations, exercise creativity, and build experience through exploring various mediums. Special gratitude is extended to all the graduate students and faculty members who have volunteered to help facilitate this program since 2011 - offering children time to explore new media in personally meaningful and creative ways. For more information about the history and publications regarding Saturday Studio please visit http://kateshively.com/saturdaystudio/
Registration information for the Saturday Art School, which will convene again for the spring semester, is available from Sara White 812-856-8120.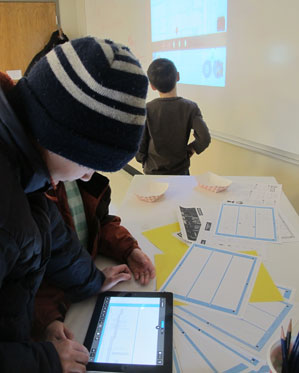 A student looking over game design on an iPad during the Saturday Art showcase show, Dec. 6, 2014.