IU School of Education professor earns NSF grant focused on informal science learning online
The Indiana University School of Education's Sean Duncan is a co-principal investigator on a new grant from the National Science Foundation to examine informal online spaces where youth may learn science.
Duncan, assistant professor of the learning sciences in the Department of Counseling and Educational Psychology, is part of a study called "Affinity Spaces for Informal Science Learning: Developing a Research Agenda."
The total NSF grant is $114,979. The principal investor on the project is Richard Hudson, senior executive producer and director of science production at Twin Cities Public Television in St. Paul-Minneapolis. The other co-principal investigator is Carlton Reeve, a senior lecturer in creative technology at the University of Bradford in the United Kingdom. Reeve studies game-based learning and directs Play With Learning, a media consulting organization.
The goal of the project is to better understand and utilize affinity spaces, which are online environments where youth can develop deep interest and engagement in specific topics and interact with others who share common interests. Duncan is deeply involved in researching learning games and affinity spaces in particular. He directs the Playful Culture Lab at IU, a research group within the Center for Research on Learning and Technology, focusing especially on learning through informal online settings. He's received a previous grant for studying use of digital badges for credentialing learning through affinity spaces. Duncan also researches how online spaces shape the way teachers, parents and children discuss media.
"This is a bit of a departure from my previous work in that we're basically saying that maybe affinity spaces aren't exactly the same thing as online sites intentionally designed for learning," Duncan said. "Affinity spaces are online spaces that cluster around interest and, in some cases, fandom -- for example, sites where someone can learn how to knit or one can talk about the latest episode of 'Game of Thrones,' or in some cases, both. Research has shown that complex informal scientific reasoning practices, literacy practices, computational thinking practices and other learning can happen in these spaces, but we don't know what we actually do with them yet, or if we even can do anything with them."
The end product of the grant will be a literature review on affinity spaces and informal science learning; then a two-day workshop to review and refine the primary research questions the project seeks to answer; and, finally, a white paper summarizing the outcomes.
"We're bringing together a group of experts to hash out some of these ideas, and to generate what we hope will be the next round of proposals in this vein," Duncan said. "We hope this will lead to research where we can explore whether we can design affinity spaces for informal science learning, or whether we need to better design instruction that would allow us to capitalize on what's already happening in these spaces."
The grant is part of the NSF's Advancing Informal STEM Learning program, called Science Learning+, a partnership between U.S. and U.K. foundations. Its projects are designed to take transformational steps to inform, improve and advance the knowledge bases, practices and design of informal STEM learning experiences and environments. Its long-term goals are to broaden participation in STEM and better understand, strengthen and coordinate STEM engagement and lifelong learning.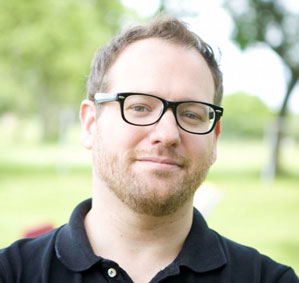 Sean Duncan, assistant professor in learning sciences at the IU School of Education