Kuh awarded IU President's Medal
Indiana University President Michael A. McRobbie has presented the President's Medal for Excellence to two highly distinguished IU faculty members, including the IU School of Education's George Kuh.
McRobbie made the presentation Tuesday at the 2014 Academic Excellence Reception and Dinner at Alumni Hall in the Indiana Memorial Union. The annual event honors Indiana University faculty members who have received prestigious awards or been named to academic honor organizations.
Kuh is Chancellor's Professor Emeritus in the School of Education and director of the National Institute for Learning Outcomes Assessment. He is widely known as a scholar of student engagement and institutional quality in higher education.
The other President's Medal was awarded to Richard Shiffrin is Distinguished Professor and Luther Dana Waterman Professor of Psychological and Brain Sciences in the College of Arts and Sciences. Widely known for his contributions to cognitive science, he also directs the department's Memory and Perception Laboratory.
"Professors Kuh and Shiffrin have made enormous and legendary contributions to their respective fields," McRobbie said. "Both have dedicated themselves to the great spirit of education and scholarship that extends far beyond the walls of the academy, and both have received many honors and awards for their work. I am very pleased to be able to add to those honors."
The President's Medal for Excellence is the highest honor an IU president can bestow. First presented in 1985, it is awarded to those who have distinguished themselves in academia or public service.
Kuh joined the Indiana University faculty in 1976 and created and taught many courses in the Higher Education and Student Affairs Program in the School of Education. He directed 55 doctoral dissertations and served as a mentor to many more graduate students. His former students are now among the leading higher education and student affairs professionals and researchers in the nation.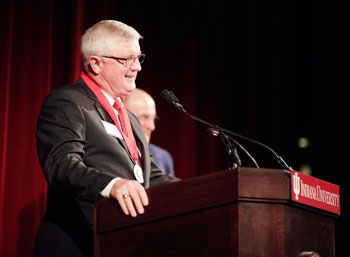 "Professor Kuh is widely known as one of the world's leading scholars of high-impact educational practices and student engagement," McRobbie said. "For nearly 40 years, he has played a major role in helping to shape research and scholarship in the field of higher education and student affairs. He has rightly been called a towering figure who launched the field of assessment in institutional quality."
Kuh is the author of highly influential texts used in higher education and student affairs programs around the world. As founding director of the National Survey of Student Engagement, he established a system for measuring students' participation in activities that encourage academic and personal development, providing students, parents and others with important information about college quality. He also directed and continues to advise the Strategic National Arts Alumni Project, the first in-depth survey to investigate the educational experiences and career paths of arts graduates.
Kuh also founded IU's Center for Postsecondary Research, which conducts research spanning a wide variety of areas, and his leadership helped make the center one of the major research operations in higher education. His contributions have been recognized by several national organizations, and he received IU's Tracy M. Sonneborn Award for distinguished teaching and research in 2001.
The annual Academic Excellence Reception and Dinner celebrates IU faculty who have reached the pinnacle of academic achievement by being named fellows of one of the major national or international scholarly academies, or who have received Pulitzer or Nobel prizes, Guggenheim Awards, MacArthur Awards, or major awards in the performing arts such as Grammy or Emmy awards.
The President's Medal for Excellence is a reproduction in silver of the symbolic jewel of office worn by IU's president at ceremonial occasions. A list of recipients is available online.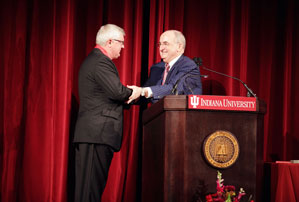 George Kuh receives the President's Medal from IU President Michael McRobbie