Julian Bond helps formally launch Inspire Living-Learning Center
The Indiana University School of Education formally marked the launch of the Inspire Living-Learning Center with a ceremony featuring remarks from civil rights activist and former NAACP president Julian Bond. Students, faculty, staff, alumni, and other friends of the School gathered in the north courtyard area of the Rose Avenue Residence Hall, home of the Inspire Living-Learning Center.
Dean Gerardo Gonzalez ceremonially cut the ribbon on the Inspire, LLC along with Bond. Before doing those honors, Bond shared his hopes for the students taking part in Inspire.
"I come from a family of educators," Bond said. "My mother was an elementary school teacher; my father was a college president; I grew up on college campuses. I've always been around people interested in education."
For many years Bond has set a standard for social justice leadership, not only heading the NAACP but serving as president of the Southern Poverty Law Center. He has long been involved in the anti-war movement. Bond famously clashed with lawmakers in Georgia when he served as a state representative over his support of Vietnam War protestors, resulting in a U.S. Supreme Court ruling in his favor after fellow legislators refused to seat him.
Bond said that he believed the Inspire students would be involved in social justice in their own way. "I became involved in all of these things, because like the young people gathered here today, I was interested in the world around me and I wanted to make it better than I'd found it," Bond said. "That's why I'm so happy to be here and participate in this program today. I think it's going to create a body of young people who are committed to social justice and who will do all they can to make it happen."
The event also formally recognized the $1 million gift from the Ford Family Fund for Inspire. The money funds programming and scholarships for the center.
Ford Family Fund president and Indiana University alumna Jean Ann Ford and her family live in the San Francisco area. Born and raised in Indiana, three generations of Fords have graduated from IU. Ford majored in education and minored in fine arts, and her identical twin sister, Jane, majored in business. After graduating, the sisters opened a small cosmetic boutique in 1976 that over 38 years grew into Benefit Cosmetics, with a global presence in the world of luxury cosmetics.
"Without her vision and generosity, Inspire simply would not exist," said Gonzalez. The Dean noted that Jean Ann Ford said she wanted to support Inspire students called to the field.
Representing the Inspire students, Inspire Student Leadership Council Chair Matthew Couch emphasized the reasons why he and others sought out the living-learning center. "We challenge each other on the floor to ask each other the pressing questions in the field of teaching and learning," Couch said. "Our community believes that Inspire promotes education in all walks of life and that it should be a voice of knowledge, caring, and most of all, understanding."
Starting with the fall semester, the Inspire Living-Learning Center began welcoming students intending to major in education who are particularly creative, talented and motivated. The students selected for Inspire are provided with special out-of-class experiences intended to enhance their academic studies in teacher preparation programs at the IU School of Education.
The Inspire Living-Learning Center is open to undergraduate students pursuing an education degree in the IU School of Education in Bloomington, with scholarships available to Indiana residents. As a part of the living-learning center, students will be exposed to special events, practice self-governance, interact with world-renowned education experts from across the world, participate in professional development workshops, and lead service-learning projects. Students will also be able to explore the roles educators play outside the classroom as community leaders, education policy experts, entrepreneurs and advocates for education reform.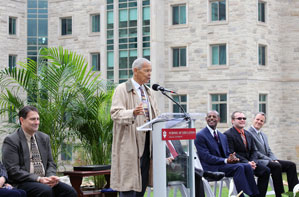 Julian Bond makes remarks during the ceremony marking the launch of the Inspire Living-Learning Center.