$1 million gift boosts IU School of Education's INSPIRE Living-Learning Center opening in the fall
With the generous support of a donor, the Indiana University School of Education will open the INSPIRE Living-Learning Center at the new Rose Avenue Residence Hall on the IU Bloomington campus in Fall 2014. A $1 million gift will fund programming and scholarships.
INSPIRE Living-Learning Center is intended to bring together particularly creative, talented and motivated education students who want to complement their academic requirements with out-of-class experiences designed to enhance their teacher preparation.
"This gift will allow us to build on the strong sense of community our students tell us is a defining characteristic of our school," said Gerardo Gonzalez, dean of the School of Education. "The programs we will offer at the INSPIRE Living-Learning Center are exactly the kind of experiences the highly talented and passionate students we're recruiting into education want and need to develop holistically as effective teachers."    
Administrative work to establish Inspire is already well underway. The first faculty director of INSPIRE is James Damico, associate professor in the Department of Literacy, Culture and Language Education at the School of Education. Through his role as faculty director, Damico will facilitate strong connections between the students and faculty and staff.
"While the field of education is multifaceted and transforming at a rapid pace, what remains constant is the importance of relationships, cultivating and sustaining meaningful and mutually enriching relationships," Damico said. "Fortunately, we are in an ideal position to do this. INSPIRE LLC students and School of Education faculty and staff will have an opportunity to learn a great deal with and from each other and extend this learning into local communities and beyond."
Judy Crow became the assistant director for the INSPIRE Living-Learning Center in July. Crow, formerly a staff member in the School of Education's Department of Educational Leadership and Policy Studies, brings experience with a living-learning center geared toward education. Crow was associate director of a teacher living-learning center at Florida State University from 2006 to 2008.
INSPIRE is open to undergraduate students pursuing an education degree in the IU School of Education in Bloomington, with scholarships available. As a part of the living-learning center, students will be exposed to special events, practice self-governance, interact with world-renowned education experts from across the world, participate in professional development workshops and lead service learning projects. Students will also be able to explore the roles educators play outside the classroom as community leaders, education policy experts, entrepreneurs and advocates for education reform.
Students can begin to apply now for the INSPIRE Living-Learning Center. Applications are available on the Indiana University Residential Programs and Services website. See and hear more about the center on the IU School of Education YouTube channel.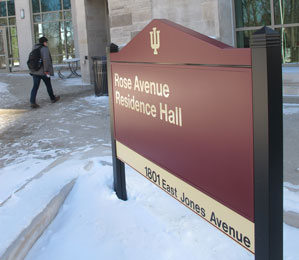 Rose Avenue Residence Hall