Redesigned USAID-funded project brings South Sudan scholars to Indiana University
Program originally designed to send IU faculty to the African country altered because of war
As a result of a totally redesigned program to promote education for women in South Sudan, 14 women from the country are on the Indiana University Bloomington campus this fall to work toward graduate degrees. The U.S. Agency for International Development through Higher Education for Development awarded IU $3.28 million for a project last year intended to promote gender equality and empowerment of women.
The program was designed to create a supportive environment for women to pursue secondary and higher education degrees. The project of the Center for International Education, Development and Research at the IU School of Education was to be headed by Terry Mason, professor of curriculum and instruction, and Arlene Benitez, program director for the project.
But renewed conflict broke out in South Sudan in December, putting the project on hold.
"With the conflict that broke out, it became evident that that plan was not going to come to fruition at all," Mason said. "I thought the project was over. I thought USAID would find other ways to spend that money and that we would not be able to continue."
After an initial period of disillusionment about the project, Mason said he and Benitez began considering other ways to reach the goals of the program. As a result, a new version of the South Sudan Higher Education Initiative for Equity and Leadership Development was born.
"We decided that if we can't go to South Sudan, South Sudan can come here," Mason said.
So the project, originally designed to send IU faculty and others to South Sudan, shifted focus to become one that brought participants to the U.S. The 14 women selected are education professionals picked to represent diverse geographic and ethnic areas of South Sudan. During the summer, they participated in classes in Kampala, Uganda, to prepare for study in Bloomington. At IU, they'll take coursework through next summer to earn a master's degree in education.
"We were able to identify 14 courageous and brilliant women from South Sudan who qualified to come and study for a master's degree," Mason said. "We were able to navigate the difficult visa procedures and other obstacles that are encountered in this kind of work and get all of them to Bloomington, and I have to say, I'm still stunned that we were able to do that."
In continuing with the project in a revamped manner, Christie Vilsack, the senior advisor for international education at USAID, said her agency was upholding its mission and Indiana University was continuing its strong efforts for global education.
"We made a commitment a year and a half ago at the World Bank and we had a White House meeting and invited the minister of education and the minister of finance from what we call our 'Room to Learn' countries -- these are countries in conflict and crisis," Vilsack said during a visit to Bloomington last week. "South Sudan is one of those countries."
Vilsack praised the work of Indiana faculty and staff, noting that the university's long-standing global initiatives allowed it to handle this situation.
"You've been doing this for a long time," she said. "This is something intrinsic to your university. And because of that, you've been through this before. You don't just get to a roadblock and go, 'Oh well, we've got to go home now because we can't do this.'"
Work on the ground in South Sudan was led by Bloomington resident and IU alumna Julia Duany, who is from South Sudan but fled with her family when war broke out in 1984. She and USAID's Leanna Marr helped coordinate the effort to recruit and prepare the participants. Duany is sure that the program, especially focused on education in emergency settings, trauma and healing, and the role of education in mitigating conflict, will prepare the women to make a difference.
"They will go back and change the life of South Sudan," Duany said.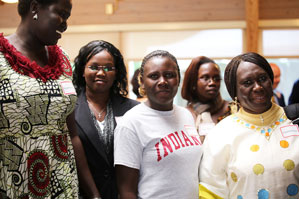 Some of the South Sudan scholars during a reception last week, from left, Nyawir Mayen, Viola Abango, Akwero Obwoya and Elizabeth Elario. All are seeking a master's in secondary education.