Global Gateway at IU School of Education hosting conference on overseas student teaching
Representatives from higher education institutions and eight countries coming to Bloomington
The Indiana University Global Gateway for Teachers will host a conference Aug. 5 to 7 for international and U.S. institutional participants in the overseas teaching program based at IU Bloomington. The conference, held every four years since 1999, brings together participants to discuss the program and highlight best practices.
The Global Gateway for Teachers began at the Indiana University School of Education in 2012 as the successor for the Foundation for International Education, founded in 1978 by University of Wisconsin-River Falls faculty member Ross Korsgaard. The organization secures overseas school placements for student teachers and oversees relationships between the participating institutions and schools in host countries.
Of the 18 countries where Global Gateway sends teachers, Japan, China, New Zealand, Scotland, England, India, Kenya and Costa Rica will be represented at the conference.
"We have at least eight countries represented," said Laura Stachowski, director of the Global Gateway for Teachers. "And then we've got campus directors coming from large institutions such as Penn State and the University of Iowa, as well as our smaller collaborators like Ripon College, Colorado College and Capital University."
The Global Gateway for Teachers grew out of the IU School of Education's own Cultural Immersion Projects, begun in 1972. The IU program has sent more than 4,000 pre-service educators to gain professional experience in foreign countries, on American Indian reservations and in urban schools, while gaining insight into the experiences of those in different school and community settings. It had long placed students overseas through the Foundation for International Education and is the largest student teacher participant in the Global Gateway.
Participants will form working groups throughout the conference, discussing the processes for placing students and preparing them to teach, expectations of host schools, and other topics dealing directly with the program's work. Several former Global Gateway student teachers will discuss their insights as past participants. IU students going on-site this fall and spring will have a chance to discuss potential placement schools and communities with host nation consultants as well.
Overall, Stachowski said the conference is designed to gather together as many program partners as possible and discuss matters that affect everyone involved, including student teachers, their home campus directors, overseas hosting schools and families, and the consultants who secure the placements.
"We have worked hard over the years to foster relationships with the people involved," she said. "We need to ensure that our partners feel like they have a voice in this operation, and that they know their involvement is valued. It is these relationships that serve as a strong foundation for our program's continued success."
The IU program for sending teachers overseas has earned numerous honors over four-plus decades. In 2011, the program earned the Innovation Award from the University Design Consortium, an organization founded to challenge public universities around the world to develop innovative strategies to address complex 21st-century issues. In 2001, the American Association of Colleges for Teacher Education honored the Cultural Immersion Projects with the Best Practice Award for Global and International Teacher Education. In 2005, the program earned the Goldman Sachs Higher Education Prize for Excellence in International Education, along with two other IU Bloomington departments.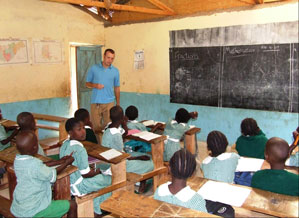 Then-IU student Jordan Leeper leads a class in Kenya in 2007.