Second cohort of Balfour Scholars concludes successful summer session
For the second straight year, more than 130 incoming high school seniors selected for the Balfour Scholars Program participated in the "Pre-College Academy" on the IU Bloomington campus. Following the session that started Sunday, July 13 and ended on Friday, July 18, more than one of the participants called it a life-altering experience.
The Balfour Scholars Program (BSP) started last year as a program to prepare high school seniors from traditionally underrepresented groups in higher education for applying to and attending college. There is no cost for participants, thanks to an $800,000 grant from the Lloyd G. Balfour Foundation. The BSP is a project of the Center for P-16 Research and Collaboration (P-16 Center) at the IU School of Education in collaboration with the IU Office of Enrollment Management, Career Development Center, the Office of Vice President for Diversity, Equity, and Multicultural Affairs (DEMA).
Following a week of sessions focused on an array of topics that included potential college majors and careers, cultural identity, financial literacy, social justice, and professionalism, students who spoke during the concluding luncheon on Friday expressed emotional thoughts on their time in the summer academy.
"Honestly, I didn't know who I was," said Valeria Castro, speaking during "Scholars' Reflections" at the program. "I think I'm a different person than I thought I was Monday." Castro said the summer academy has given her insight into college but even more insight into her potential, something she said brought a phrase to her mind as she considered what she'd speak about from the podium. "You can't be one thing and you can't be everything, so you have to be you."
Her powerful reflection and 18 others presented by students at the luncheon noted transformative thoughts brought by just a few days on the IU Bloomington campus. Some scholars wrote "Bio-Poems," speaking in verse some of the things they took away from the week but also some of the things that have impacted their lives. Many reflected tough and almost dire circumstances:  tragic loss, financial hardship, seemingly insurmountable situations.  A few could hardly finish their reflection because of welling tears.  One participant spoke movingly of his now clear goal of attending college and honoring the legacy of his mother, who died just over a month ago. A couple spoke of deep, debilitating depression that they have overcome. Many discussed lives in neighborhoods where college is barely a thought and isn't something anyone in their own home has ever done. For all who spoke, the week here—which one participant said she wished was at least two—was a more than memorable experience.
"As a person, I grew," said Yasmine Williams. "I knew myself, but I didn't know what path to take."
The pathway to college and beyond was a consistent theme of the week and is core to the Balfour Scholars Program. The program reaches out to students with the summer session just before they start their senior year of high school so that they are preparing for college entry paperwork and required entry exams as well as thinking about what other areas they should focus on to prepare for higher education.  Balfour Scholars Program Director Christina Wright Fields says she's looking forward to developing high school college readiness workshops for the upcoming school year for Balfour pre-college academy participants. "Numerous school administrators were selected to become BSP liaisons for the upcoming school year," she said. "BSP liaisons will help with facilitating communication between BSP and schools, serve as a BSP advocate, assist with BSP outreach, and share relevant BSP information with school constituents.  BSP and the P-16 Center is committed to offering BSP liaisons with the following: workshops, up-to-date BSP information, and most importantly will serve as an IUB campus resource.   The workshops will include time management, budgeting, college admissions, networking, financial aid, and college-going for parents and families."  
If the participants come to IU Bloomington, the BSP support extends through their career on campus. After just one full year of the program, it's clear many may take advantage of that opportunity. From last year's first cohort of 80 students, 60 of them qualified to receive a fee waiver for application to IU. Of those who applied, 25 were accepted.
BSP students come from around the state, though recruiting has particularly focused on schools in districts that are P-16 Center "Pathways Partnership" schools, such as Gary Community School Corporation, Fort Wayne Community Schools, Pike Township in Indianapolis, and South Bend Community Schools. Pathways schools have partnered with the P-16 Center to work toward improving graduation and college-going rates and better prepare students for 21st century careers. 
In sending the Balfour Scholars off, P-16 Center director Dionne Cross Francis reminded them that she is someone who knows the numbers, being a math education faculty member in the IU School of Education. She noted that the statistics for students who are the first in a family to attend college aren't great; such students are far more likely to drop out of college after a year and much less likely to earn any degree. But Cross Francis also noted that the students in the room are there because they have good academic records and possess ability.
"In general, a lot of us here are outliers," she said. "Many of you are going to be outliers. You're going to defy the statistics. That is your charge."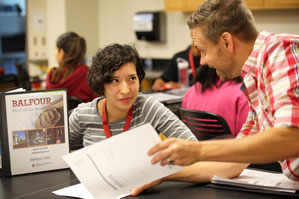 A Balfour Scholar receives instruction during one of the many sessions as part of the summer academy.