Alumni honored, experts explain tough topics during McCarthy Institute, summer workshop
The Indiana University School Administrators Association (IUSAA) honored top alumni and participants in the annual Martha McCarthy Law and Policy Institute and 47th annual educational leadership workshop. The conference dived deep into matters surrounding a range of issues on Thursday and Friday, June 12-13. More than 180 registered for the conference.
This was the first year the Thursday portion of the annual summer workshop was held under Martha McCarthy's name. During last year's event, organizers announced the renaming in honor of McCarthy, a faculty member at the IU School of Education from 1975 to 2011 who is nationally recognized as an expert in education law. Her research has covered a variety of education leadership and policy matters, including student engagement, equity in schools and teacher preparation. Friday's workshop was sponsored by REL Midwest, the U.S. Department of Education's Regional Educational Laboratory for the Midwest region, which works to provide data and research for state departments of education and school districts.
On Thursday evening, the IUSAA honored three alumni for educational leadership. The awards were given during the annual IUSAA "cookout," which was actually held indoors at the IU School of Education's Wright Building Atrium. The award recipients are:
Neyland Clark, BS'72 in social studies education, Specialist'79 in school administration, EdD'84 in school administration, awarded the University Council for Educational Administration (UCEA) Excellence in Educational Leadership Award." The award was established by UCEA to provide national recognition to practicing school administrators who have made significant contributions to the improvement of administrator preparation. Clark is superintendent of South Harrison Community School Corporation, completing 18 years in that district and 26 as a superintendent. The Indiana Association of Public School Superintendents selected him as the Superintendent of the Year for District 8, which covers Southern Indiana. Clark was a superintendent in Missouri, Kentucky, and Brown County, Indiana before taking over at South Harrison. He has been noted for innovative measures, such as becoming the first school corporation in the state to establish an in-house professional development center in schools.  
Amy  Zent, MS'65 in special education and EdD'82 in school administration, awarded the "Outstanding Leadership and Contribution to Education Award." This award recognizes Indiana University Educational Leadership Program graduates who have had a distinguished career in education, who have shown outstanding leadership, and who have had at least 15 years of experience in a leadership role. Zent's educational influence began in Indiana but has spread worldwide. She has taught in Fort Wayne and Indianapolis, but also in Alaska, Thailand, and Iran, returning after the Iranian revolution in late 1978. She earned he school administration EdD when she returned and worked as the supervisor for Indianapolis Public Schools programs for high incidence special needs students. She served as a teacher and administrator for Seoul International School in the late 1980's, then taught and was an administrator at the U.S. Defense Department's Dependent schools in Korean and Japan. She retired 14 years ago, but remains very active, tutoring some of Indianapolis' Burmese refugees in English, tutoring other adults in reading and GED preparation, while also making mission trips to Sierra Leone to help teachers an establish libraries.
Michelle Miller Moore, Specialist'10, EdD'11 in educational leadership, awarded the "Dean F. Berkley Emerging Leader Award. The award recognizes emerging leaders who have made significant contributions to education and who have graduated from the Indiana University Educational Leadership Program within the last eight years. Signifying Moore's emerging leader status, she has been hired as the new superintendent of the Metropolitan School District of Martinsville, IN, and starts her job July 1. She moves to the position from the Central Indiana Educational Service Center, where she was executive director since October, 2013. Even before formally taking on her new role, she has been active with Martinsville students and staff, joining students for a Habitat for Humanity build in May and writing an open letter to the Martinsville community, outlining a plan of action for her school district. ""With Dr. Michele Moore's passion, enthusiasm, and knowledge we feel she has the educational capacity and attributes to move us ahead and become a premier school district," Martinsville Board President Beckie Weddle said when Moore was named to the position.
Thursday's program at the McCarthy Institute focused on teacher and principal evaluation as well as school bullying and school legal and policy responses, among other topics. Robert Kim deputy assistant secretary for strategic operations and outreach in the Office for Civil Rights at the U.S. Department of Education, delivered the keynote address. Friday's REL Midwest workshop again focused on educator evaluation, examining national trends and the continuing development of Indiana's process.
The IUSAA is intended to promote a continuing standard of excellence in the field of educational leadership and in the graduate program of Education Leadership Policy studies at Indiana University. Its goal is to enhance the professionalism, career development and networking of members. IUSAA recognizes the contribution of members and others in education and promotes the role of alumni in support of the mission of the School of Education of Indiana University.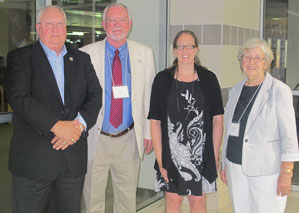 IUSAA Award recipients (L-R) Clark, ELPS Professor Gary Crow, Moore, and Zent.