Art infusion and a learning explosion
School of Education grad students join Ivy Tech project at Fairview and see big results
One of the first things the organizers of this educational arts project at Bloomington's Fairview Elementary will tell you is that, in some ways, it's not so organized.
Certainly they know what the goals are, they know what they want children to learn, but some of it, frankly, comes as they go. "All of these songs and the games emerged in the moment," said Gus Weltsek, PhD, the chair of arts and humanities at Ivy Tech in Bloomington and coordinator of the IU Drama and Theatre in Education License Program. "They weren't done before. They were completely invented."
Weltsek shared that following a presentation from preschool students in Lynne Hall's class who had been taking part in a two-semester special arts infusion process. Fairview bases its curriculum on arts infusion already, but this was an additional application of that concept intended to supplement Hall's work and help increase vocabulary skills at Fairview.
The program involving Weltsek, IU School of Education doctoral student in curriculum and instruction and arts education Ginger Brinn, and art education master's student Samantha Petry, aimed to allow students to drive their own learning through play and creation. The inventions—which included creating a fictional planet, illustrations and notes about the planet's atmosphere, and songs about how solar systems work—came organically from the students as they worked. And "work" is used in a relative sense for Weltsek, who endeavors to teach across the curriculum through allow children to play and discover.  And, we should note, Weltsek became known as "Captain Galactica" during the semester, presumably in some sort of intergalactic force protecting the cosmos surrounding the planet the children created.
Beyond the fun and games, though, there have been serious results. Weltsek and his colleagues monitored scores for the children participating, using the Individual Growth and Development for Infants and Toddlers (IGDI) measures. The IGDI allows practitioners to measure growth in vocabulary for young students. In September of 2013, before the program began with Fairview students, their average vocabulary score on the 35-point IGDI scale was 14.39.  That score was well below the average for a "control" group of preschoolers at a nearby school not in the program. By December, only halfway through the full year of the program, the Fairview students scored 31.65, an increase of 117 percent and two points above the control group students.
It's a remarkable finding for the program that was done once a week for thirty minutes on one day at the start of the fall semester, eventually upped to an hour and 45 minutes split between two days by December. During the spring semester, the preschoolers participated for 2 hours and 45 minutes a week. While the numbers certainly don't prove a causal link, the implication of the program is clear.
"It's the creative process first and then it's the curriculum second," Weltsek said. "That's why their vocabulary went up—they wanted to talk. They needed more words to explain what they were going through because they were given the opportunity to explain it and they wanted to explain it." Weltsek has been quite involved in making sure arts is an integral part to learning across the country. He was one of a dozen on a team of drama and theater educators taking part in crafting the new National Standards for Drama and Theater Education which were unveiled June 6.
To complement the work Hall had already been doing with these students, the program coordinators introduced visual and theater arts, emphasizing the reading and word composition concepts key to advancing their burgeoning vocabulary skills. "We would get together as a group once a week and talk about what we were doing in the classroom," Brinn said. "Then I would go off from there with a visual component to tie in with what Gus was doing with the theater and what Lynn was talking about." The instructors would adjust what they did based on sometimes difficult concepts. "I did lessons that enabled the children to see things that weren't there, making extraordinary things out of ordinary things like a piece of string, and getting them to understand the concept of how constellations were named and created," Brinn said. After that, the students created their own constellations, adding paper mache planets to finalize the solar system. Additionally, they produced journals about their new galaxy and songs and games explaining how everything works there.
"You could see them getting excited to be here and participate," Petry said. She said the individual boards the students made about their planets very much reflected each student's personality. That was the direct result, she said, of how the program highly engaged them in learning by working with how they play. "I think for little kids, it comes more naturally because they're more connected to their imagination and to playing pretend, so a lot of it is just taking it as it comes," Petry said.
The results give some guidance for future work and hope for students such as those at Fairview. The elementary school has struggled on state assessments in recent years and has a student population is around 90 percent eligible for free or reduced lunch plans because of family income levels. An intervention such as this one is backed by previous data analysis conducted by Weltsek and others showing around 56 percent of students in theater strategies classrooms passed state assessments in language arts, compared to 43 percent of students in control classrooms. Arts integrated classroom student success on math assessments was 47 percent compared to 39 percent of those in control classrooms.
Weltsek says while definitive proof is elusive, it's clear that the students shaping their own learning and owning it in the process made a difference. "It wasn't something on a test or a worksheet or connected to a curriculum, per se," he said. "But it utilized the curriculum in a way that they were familiar with in explaining the world."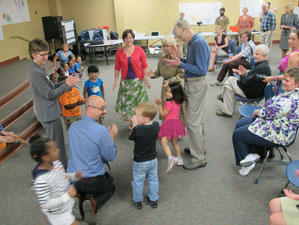 Gus Weltsek (kneeling in blue shirt) leads Fairview students in a song game they created. Across the circle in the red sweater is IU art education master's student Samantha Petry.