Fulbright program bringing international teachers to IU
IU School of Education center to oversee program for exchange of ideas, interaction with local schools
Eleven teachers from five countries will be at Indiana University Bloomington from mid-August through the fall 2014 semester as part of the Fulbright Distinguished Awards in Teaching Program. The Global Teacher Programs Division of the Institute of International Education awarded $224,036 to the Center for International Education, Development and Research at the IU School of Education to host the program.
The program will bring educators from Finland, India, Morocco, New Zealand and Singapore to Bloomington for a four-month program. The participants will attend classes in the IU School of Education; share best practices and insight from their own countries with IU faculty and students; and interact with teachers and students at Bloomington schools.
"The classes will be courses they're auditing around pedagogy and content," said Patricia Kubow, director of the Center for International Education, Development and Research and professor in educational leadership and policy studies and curriculum and instruction. "It could be driven by their subject area in literacy or STEM fields, or other areas. They take the classes to learn about best practices in the U.S. But the program is also for reciprocal sharing so that Americans are learning about these countries."
During the program, the participants will be in schools twice a week, working with a teacher mentor in each school. Kubow expects to expand the number of schools involved, but right now she knows the Fulbright teachers will go to Bloomington North High School and University Elementary School.
"These teachers will be out in the schools to interact with classroom teachers, to learn about what's going on with how American teachers work together to help meet the needs of students, especially in a multicultural society," Kubow said.
Additionally, the Fulbright participants will take part in their own customized seminar class so they can reflect on what they are learning and prepare to share it with teachers and educators in their home communities. IU School of Education faculty will serve as advisors to help guide their work.
The Distinguished Fulbright Teachers will also lead seminars and master classes for U.S. teachers and students sharing best practices and their own expertise. By the end of the four months, they will design and complete a capstone project about what they have learned and how they will use it when they return home.
Though this Fulbright program is annual, only one U.S. higher education institution is selected to host the visiting teachers each year. Selection for campus participants is made every year, though it is possible for a campus to host in multiple years. The Fulbright Distinguished Awards in Teaching Program is sponsored by the Bureau of Educational and Cultural Affairs in the U.S. Department of State. It is part of the overall Fulbright Scholar Program, a State Department program named in honor of Sen. J. William Fulbright to promote mutual understanding among people of the U.S. and other countries.
The project adds to a long list of international work being done by the Center for International Education, Development and Research, recently renamed from the Center for Social Studies and International Education, which started in 1968. Ongoing efforts of the center include development projects focused on expanding education for women in Afghanistan and South Sudan. The center has overseen past exchanges, including one that brought Afghan students to Bloomington. However, this is the first time the center in the IU School of Education has been awarded a Fulbright.
Kubow, who was recently selected in a national search, took over as director of the IU center in August 2013. She was previously director for the Center for International Comparative Education at Bowling Green State University.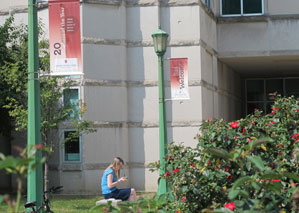 The Wright Education Building at IU Bloomington.