International education center has new name, continuing global mission
A longstanding center for international education projects at Indiana University Bloomington has changed its name and has a new director, but is still looking outward to bring IU education research and resources to bear on issues throughout the world. As of a few weeks ago, the Center for International Education, Development and Research, or CIEDR (pronounced like the tree), was born. CIEDR is the new incarnation of the Center for Social Studies and International Education, which started in 1968.
Along with the new name, the center has welcomed a new director, Patty Kubow, who holds a joint faculty appointment in the School of Education's departments of educational leadership and policy studies and curriculum and instruction. An expert in international comparative education, she has written extensively on the subject, most notably the textbook Comparative Education:  Exploring Issues in International Context, used in universities across the world. She has focused her research on citizenship education, cross-cultural teaching pedagogies, teacher education, and educational policy among several areas. Kubow was the director for the Center for International Comparative Education at Bowling Green State University.
With a rich history and continuing development of its mission since its founding more than 45 years ago, CIEDR's new director is moving the center forward with a steady focus on its democratic education mission. "The legacy of the Center is its commitment to democratization and internationalization at home and abroad," Kubow said, "which began with former directors such as Howard Mehlinger and John Patrick, and with commitment to global education from colleagues such as James Becker.  My desire is to continue that legacy, as each research study and educational project of the Center has citizenship education, participant empowerment, civic engagement, and global understanding at its core."
So Kubow is re-introducing the center and introducing herself to the IU community and beyond. Building upon the tradition of the center, CIEDR is a gateway for grant development and cross-department collaboration (potentially joining disparate parts of IU) for educational projects and research that have an international dimension.  "One of my first steps was to take stock of the strengths of the faculty and personnel associated with the center," Kubow said. "CIEDR will not only build upon, but will expand in the direction of culturally-relevant curriculum development and educational reform and educational leadership initiatives with international partners, namely educational policy makers and educational institutions."
Right now, the center is in the midst of several key projects, including programs focusing on higher education attainment for women in Afghanistan and from South Sudan. The Afghanistan project is a continuation of many years of work in the country that began just after the fall of the Taliban and included bringing Afghani students to Bloomington and implementing a master's degree in English language teaching at Kabul Education University in Afghanistan. Mitzi Lewison, professor of language, culture, and literacy education, is currently wrapping work on the latest grant, a two-year $1.8 million project funded by the U.S. Agency for International Development (USAID) focusing on developing an English language curriculum for Afghanistan higher education.
Also a USAID-funded effort, the project began last year to promote women's access to higher education and success once they reach the classroom. However, renewed hostilities in the war-torn country has forced project director and professor of curriculum and instruction Terry Mason to work on a project redesign, still with the hope of sending IU faculty to South Sudan (Arlene Benitez, CIEDR research associate manages both the Afghanistan and South Sudan projects). It is part of an overall USAID women's leadership program created in hopes of creating new leadership and putting an end to such troubles.
But seeking educational answers to address countries' development challenges is an important part of the center. Faculty and staff working with CIEDR are focused on democracy and civic identity, language education, international education policy, human rights and gender equity, globalization and indigenous knowledge, among many interests. Kubow said she plans for the center to use even more IU faculty expertise to apply to international educational contexts.  Gender equity and education access for women, particularly in Africa, will be a continued focus.
"In addition, CIEDR is drawing upon the range of IU faculty interests and expertise in relation to Latin America, Europe, and the Middle East," Kubow said. "For example, an IU graduate student internship is being developed for Nicaragua, and Keith Barton (professor of curriculum studies) is developing a research connection and exchange with Sweden.  CIEDR is partnered with 'Save the Children' and identifies uniquely qualified IU graduate students for the 'Save-University Partnership for Education Research' (SUPER) fellowships. Those fellowships, overseen by Margaret Sutton, associate professor in educational leadership and policy studies, pairs IU doctoral students with Save the Children offices around the world to aid researching some of the problems the organization is trying to solve. IU School of Education doctoral students have served in Bangladesh, Malawi, and Indonesia.
Aside from partnering across the IU campus, CIEDR is focused on connecting with other international educators within Indiana and elsewhere as well as expanding the dialogue on international education. Assistant Professor of curriculum studies Kathryn Engebretson is a contributing editor for Viewpoints, the official newsletter of the Indiana Council for the Social Studies (ICSS). CIEDR budget administrator Christi Jones was thoroughly involved in organizing the ICSS annual state conference last year, which earned her a service award from the organization. And a new annual lecture series began earlier this year, the first event featuring Vice-Chancellor and Rector of the University of the Free State in South Africa, Jonathan Jansen.
Needless to say, it's a full plate for the center's new director, who founded the international comparative education center at Bowling Green. "I learned how to harness the strengths of tenure-track faculty and graduate students," Kubow said of that experience. While there she directed projects spanning more than 20 countries, drawing support from a range of federal agencies. "I have been grateful for these professional experiences and seek to especially draw upon my work in African and Middle Eastern contexts as CIEDR continues to move forward," she said.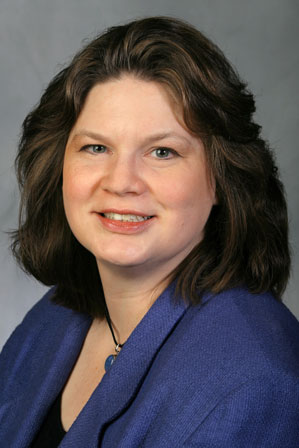 Patty Kubow, director of CIEDR