School of Education celebrates graduates
The Indiana University School of Education offered formal congratulations and presented diplomas to the graduating class of 2014 during Spring Convocation on Saturday, May 10. The school held two ceremonies to mark the occasion and accommodate the large crowds at the Wright Education building in Bloomington.

Dean Gerardo Gonzalez urged the graduates to follow the words of Caleb Mills, the man considered the founder of Indiana's public education system and a onetime Indiana state schools superintendent. Mills' quote "Teachers must inspire as well as instruct" is chiseled into the limestone wall of the Wright building's East and North entrances.

"Mills' statement places no small demand upon teachers," Gonzalez said. "Instruction takes a good bit of time, as you all certainly know, and certainly enough time that being inspiring on top of that feels some days like a big task." But he added, giving examples of School of Education alumni who have inspired students, that they became educators just to have that opportunity. "You are in education because you want to be the inspiration to some young elementary school student, a high schooler, or someone returning to continue his or her education."

Student speakers also emphasized what they have learned and what they hope the future teachers will practice. Steven Stepnoski, earning a bachelor's in secondary education with a concentration in English and Language arts, said he fell in love with the process of becoming a teacher in college. "We do not learn to earn a living," he said of his time, "but live to earn a learning."

Among the lessons Stepnoski said he learned is that his job is a lot like that of Jeopardy host Alex Trebek. "Being a teacher is like being a game show host," he said. "I lay out the rules, explain how to participate, manage the activities, judge right and wrong, keep score, involve everyone to play along, or cheer on others."

Stepnoski added that the point of those rules is to help each of his participants—his students—earn the grand prize. "To each student, the grand prize could just be a Tootsie Roll or an A plus," he said.  "But as a teacher, we realize that the grand prize is not at the beginning or at the end of the game, but also in an interval in between.  The real grand prize comes along the way in the form of encouragement and interaction with students. To instill the rewards of experience and understanding that accompany hard work, to realize the value of overcoming challenges with higher-order thinking skills."

According to graduate speaker Alli Suzanne Fetter-Harrott, seeking a level field for all learners is the prize teachers should seek. Fetter-Harrott, who just earned her PhD in education policy studies already held a law degree from IU Bloomington, as well as a master's in special education. She is now the Williams Chair for Law and Public Service and assistant professor of political science at Franklin University.
"As educators, our greatest role in the 21st century will be to pursue justice by promoting equality," Fetter-Harrott said. She concentrated on school law in her education policy doctorate. "The pursuit of equity is a natural role for teachers and educators.  Who is better suited?" She went on to encourage her fellow graduates in particular ways about how they can change opportunity for the better. "It's clear to me that no other institution has the ability to so broadly and organically affect equity and fairness," she said. "It's up to us."

Several photos from the convocation ceremonies are available on the IU School of Education Facebook page (look in the photos category).  Video of each ceremony is available online. To watch the 12:45 convocation, click here; the 3:00 ceremony is here.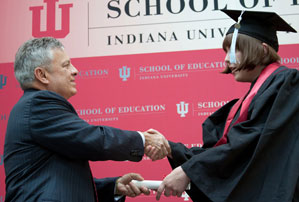 Dean Gerardo Gonzalez hands a diploma to one of the IU School of Education's newest graduates.