IU, School of Ed program, reach list of top Peace Corps Master's International schools
By helping restore the forests of Peru, Rachel Schoenian is helping Indiana University Bloomington grow in the national rankings of Peace Corps schools nationwide.
IU is making its debut appearance and ranks 10th on the Peace Corps' newly released list of top Master's International schools nationwide. Schoenian is one of 12 IU students working as Peace Corps volunteers around the world.
The Kokomo, Ind., native has been an environmental volunteer in Peru since September and is working on reforestation, waste management and environmental education projects. She earned her undergraduate degree from IU Bloomington's School of Public and Environmental Affairs last year and is now pursuing a master's degree from SPEA focusing on policy analysis.
The Master's International program allows students to incorporate Peace Corps service as an integral part of their graduate degree, and the Paul D. Coverdell Fellows Program provides returned Peace Corps volunteers with the opportunity to continue to serve in their communities concurrent to earning an advanced degree.
"Peace Corps' partnerships with colleges and universities create invaluable opportunities for students to apply what they've learned in the classroom to real-life situations," Peace Corps Acting Director Carrie Hessler-Radelet said.
Schoenian is considering a career closely linked to her service in Peru.
"The Peace Corps seemed like an affordable and worthwhile way to find out if international development was right for me," she said. "Travel always teaches you something new; though sometimes it's hard to define just exactly what you've learned until you return home and reflect properly on it. So far, Peru has taught me how to really, truly be patient and content in any situation that might come my way."
While Schoenian is a SPEA student, the IU School of Education also offers the Master's International Program to help fill a global need for well-prepared teachers of English as a Foreign and/or Second Language. Now in its fourth year, the program counts a Peace Corps service assignment as six graduate credits toward a master's degree from the Department of Literacy, Culture and Language Education at the School of Education.
Faridah Pawan, an associate professor in that department, said the program goes with the School of Education's internationalization mission.
"We're giving them early exposure to what's out there," she said. "We're developing qualified, highly informed individuals to teach English overseas. In addition, the unique hybrid and distance education format of the IU School of Education's Peace Corps Master's International program enables it to provide embedded and sustained support for the individuals as well."
According to Joan Connor, who gave up her teaching job in Texas to join the Peace Corps to teach English through music in Zuunmod, Mongolia, the online format fits well with her exciting and challenging life as a Peace Corps volunteer.
"When thoughts swirl in my head at 2 a.m., how convenient to be able to arise, post, discuss and then sleep more peacefully," she said. "The value of interacting with similar minds that have similar goals in dissimilar places is comforting when those shards of loneliness cut into a dark and frigid Saturday evening so far away from home. This IU program is my support and PC companion as I grow in myriad of ways."
While the Master's International and Coverdell Fellows programs are relatively new, IU has a long history of Peace Corps involvement. Since the agency was created in 1961, 1,603 IU graduates have made a difference as Peace Corps volunteers.
About the Master's International program
Peace Corps partners with more than 80 colleges and universities nationwide to enable students to earn a master's degree while serving in the Peace Corps. Students begin their studies on campus; serve overseas with the Peace Corps for two years; then return to school to finish graduate work. As part of a Peace Corps volunteer's service, the volunteer will work on projects related to his or her master's studies. For more information, visit www.peacecorps.gov/masters.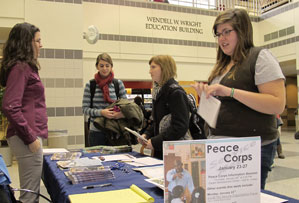 Peace Corps representatives recruiting at the IU School of Education in January, 2012.