IACTE honors School of Education students as Outstanding Future Educators
The Indiana Association of Colleges for Teacher Education (IACTE) has officially recognized several Indiana University School of Education graduating students as ones very likely to be among the best in the field. The IACTE presented the "Outstanding Future Educator" awards recently during a luncheon and ceremony in Carmel. Five Indiana University Bloomington students were among the award recipients.
The five recipients from the Bloomington campus are Christopher Blackburn, Steven Stepnoski, Zach Dodson, Rachel Ignas, and Corey Ward.
For Blackburn, earning the award marked the launch of a second career. For 17 years, he worked in the pharmaceutical industry in a position he described as comfortable and one in which he excelled. But he longed for something more.
"I think that everybody as they go through life they kind of re-evaluate where they're at and what they want to do," Blackburn said. "For me, I had gotten to the point where, while I did enjoy my job, my first career, I very much wanted to get past serving myself--especially in my rise through that company and making more money--and start thinking about serving others."
So first, Blackburn went back to school, pursuing interests in history and international studies at IUPUI, earning a bachelor's degree there in 2010. Owing to a fascination with China, he began pursuing a master's degree in East Asian studies in Bloomington later that year. "While I was doing that, I wanted to figure out how I could get into teaching in secondary education," he said. "I found the T to T program (the Transition to Teaching program that allows bachelor's degree holders to earn teacher certification in a year) and spoke with Dr. (Ben) Edmonds, applied and got in."
And since then, Blackburn has looked forward to being in the classroom full time. He said the first field experience he had at Edgewood Middle School offered him a taste that made him fairly sure of his second career calling; his 10 weeks of student teaching at Center Grove High School cemented his assurance.
"It reinforced my desire to teach," he said. "It was just a real privilege and pleasure to serve both the students and the faculty of Center Grove and it really gave me an appreciation for what it means to teach—beyond just the desire to be in front of them and offer instruction, but to understand the commitment involved with trying to offer educational instruction to students at the secondary level."
As for winning the award for being an outstanding future educator, Blackburn said he was shocked. Leaving Center Grove, he said "I felt like I had so much more to do." As he collects his diploma this May, he's looking for his first paying classroom job.
Teaching might have been a second career for Steven Stepnoski if he had been able to earn a degree to follow in Pat Sajak's footsteps. "Growing up, I always wanted to be a TV game show host," he said. "I thought that would be the ideal job, but I figured I can't go to college for that."
As it turns out, he loves to perform in front of students and (Sajak-like) guide them into finding the right letters, words, and phrases. A job as a summer camp counselor just before beginning his first semester at IU gave him the experience of leading younger people. "I loved reading, loved English class in high school, loved interacting with the kids at camp," Stepnoski said. "I thought, "Hey:  English teacher."
Stepnoski leaves in May with a secondary English education degree. He's also pursuing a license addition to his license to certify him as a teacher of English as a second language.
Secondary social studies major Zach Dodson wasn't originally on the teaching pathway either, starting his IU career as a business major. He, too, found enjoyment working with kids during a summer job, particularly enjoying working with them to reach their potential. He was already interested in history and technology (he will also graduate with a computer education license addition), so when he thought about his career, switching to education made sense. "I decided it was more important and rewarding to teach than to go after my other interests," Dodson said.
Personal connections with students have allowed him to excel, Dodson said. While student teaching last fall at Evansville's F.J. Reitz High School and Bosse High School, he made a particular point of gathering information about his class and keeping up with what his students were doing.
"Every day I would look at the daily bulletin and make sure I would make contact with a student if their club or sport competed, they had an individual recognition, or I would try to find something related to their interests that I could talk to them about," he said. "I also made an effort to attend an event that each one of my students participated in whether it be school related or even going to where they worked to see them. I believe it was this relationship builder that allowed me to develop such a good repertoire with my students that transferred to success in my classroom."
It took no deep soul searching for Rachel Ignas to decide on teaching as a career. This award winner's mother taught as did her aunt. A desire to be a teacher herself came early.
"I would pretend to be a teacher with my cousins at family events and try to teach them, even though they are all older than me," Ignas said. "Every year I helped my aunt set up her classroom for the upcoming school year. I even enjoyed helping my mom grade papers by giving students stars on their tests."
Ignas will earn her degree from the Teaching All Learners program, a program designed to prepare teachers for classrooms containing students with disabilities as well as those who do not have disabilities. She'll graduate with endorsements in reading and English as a New Language.
Corey Ward has already earned his degree in secondary education for English and language arts. He graduated in December and is working full time in New York City. 
Ward participated in the Global Gateway for Teachers, spending his time on the Navajo Reservation. "I was given the opportunity to engage diverse and amazing group of Navajo students and their community," he said. "I led a class of sixth grade students through a new Common Core curriculum developed by my cooperating teacher and myself, and through the year we were able to garner the students' interest and facilitate the class meeting all of their mid-year testing goals—a success that the class had not had the previous year."
Ward also taught a theater class at a local high school, leading students through a production of  The Importance of Being Earnest. "The students all really rose to their potential with the production, and filled all of the cast and crew roles," he said. "Through the course of the production, the play's six performances had a huge impact on the kids and the community. The kids performed for their peers, raising awareness of the program and generating revenue."
"I had an amazing and life-changing experience, and I saw all of the students I worked with grow immensely," Ward added. 
For Ignas, the student teaching experience she had at Evansville elementary schools Highland, Fairlawn, and Stockwell Elementary reinforced the passion she knew she had since childhood. "I enjoy being at school early to prepare engaging lessons for students so they get the most out of their time in the classroom," she said. "I also enjoy working after school hours tutoring students, sponsoring student council, and coaching cheerleading.  I enjoy the all-encompassing aspects of being a teacher.  I go beyond the classroom and love working with students in all areas of learning."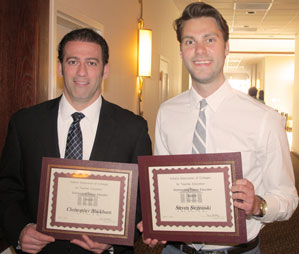 Outstanding Future Teacher honorees (L-R) Christopher Blackburn and Steven Stepnoski. Recipients unable to attend and not pictured are Zach Dodson, Rachel Ignas, and Corey Ward.