IU School of Education honors nine as Armstrong Teachers
The Indiana University School of Education has named nine Indiana public school teachers as the Martha Lea and Bill Armstrong Teacher Educators for the 2014-15 school year.
This honor affords the teachers an opportunity to participate in professional development and work with IU faculty and students studying to be teachers during the next year. The School of Education honored the new Armstrong teachers during the annual Celebration of Teaching ceremony April 21.
Since 1997, superintendents and principals from around Indiana have nominated teachers for the Armstrong Teacher Educator Award based on patterns of outstanding teaching and school leadership. The nominees must also demonstrate a potential to work effectively as mentors and role models for pre-service teachers.
A committee of IU faculty, students and former recipients chooses the Armstrong teachers. The awards are made possible through the Martha Lea and Bill Armstrong Fund in Teacher Education, which also supports the Martha Lea and Bill Armstrong Chair in Teacher Education.
The Martha Lea and Bill Armstrong Fund in Teacher Education was established through a gift from the Cook Group Cos. of Bloomington. In 1996, Bill and Gayle Cook designated a $1 million gift to honor longtime IU Foundation President Bill Armstrong and his wife, Martha Lea. The Armstrongs asked that the gift support Indiana's teachers and worked with the Cooks and the School of Education to develop the program. In memory of Bill Cook, who died April 15, 2011, the Cook family designated memorial donations be directed to the Armstrong Fund.
Since the program started, more than 140 Indiana teachers have been selected as Armstrong Teacher Educators. The select group has typically included many teachers recognized as outstanding in the field by administrators and education organizations. Several Armstrong teachers have been Indiana Teacher of the Year finalists. Indiana Teacher of the Year for 2011 Stacy McCormack was named an Armstrong Teacher Educator just before earning the statewide honor.
"The Armstrong Teachers Program is an excellent example of a successful privately funded partnership between K-12 schools and higher education," said Gerardo Gonzalez, dean of the IU School of Education. "It makes it possible for the best teachers in Indiana to engage in on-going professional development while meaningfully contributing to the preparation of future generation of teachers. I can't imagine a better, more productive partnership to benefit K-12 students, schools and teacher preparation."
"Given the outstanding credentials of the nominees for the Armstrong Award each year, selecting the winners is always difficult," said Pete Kloosterman, the Martha Lea and Bill Armstrong Chair in Teacher Education. "This year's cohort includes individuals with expertise in everything from using technology in the classroom to running community-based programs and activities with their students. They will be a great asset for IU teacher education students."
The 2014-15 Armstrong Teacher Educators are:
Eric Ambler
A 5th grade teacher at Muncie Community School's East Washington Academy, Ambler has presented often about data-driven instruction for teachers, devised many time on-task teaching strategies, and has also conducted staff professional development workshops on classroom and behavior management. 
Ambler has been a program manager for the academic enrichment program Summer Advantage USA for two summers in Muncie. He has a strong passion for music, incorporating parodies, chants, and rhythm in all areas of instruction to increase student participation and learning. Along with his oldest daughter, Emma, he has produced and recorded two sight-word song CD's for kindergarten and first grade.   
Ambler and his students at East Washington Academy have established an urban school garden that has donated hundreds of pounds of fresh vegetables to their school community as well as local soup kitchens and the Muncie Mission. 
Julie Beaty
Beaty is a 4th grade teacher at Stephen Foster Elementary #67 in Indianapolis, where she endeavors to build a classroom that is a rich and engaging learning experience. She has worked over the last decade to create an atmosphere to empower students to explore science, nature, and technology, all while connecting the classroom to the real world.
For the past nine years, Beaty has taken more than 500 inner-city children on an overnight, outdoor education experience at no cost to their families. She built the camp into a yearly program through raising more than $75,000.
In her school, she has been involved in a variety of efforts to improve the learning experience for students. She has been a pilot teacher for integrating iPads in the classroom, spearheaded a school-wide day of service, created a science lab funded by local community partners, created and funded a New York City academic learning experience with a student group, coached basketball for numerous years, and served on many school-wide committees.
Peter Berg
A member of the faculty at Decatur Central High School since 2000, Berg previously served at 3 different Catholic schools over 17 years. In 2013, the school and district named him the teacher of the year. Berg has taught a variety of math, science, and religion courses throughout his career. Currently he teaches project-based learning physics/engineering technology classes as well as advanced placement physics and calculus. He incorporates 21st century skills into the learning through the oral and written presentations required of students.
Berg coaches the Decatur Central Academic competition teams and also sponsors the after-school game design club. He also teaches a new tech online collaborative learning physics/technology class which enrolls students from four states. Berg is also an adjunct faculty member of the physics and earth-space science department at the University of Indianapolis.
Susi Clark
Clark teaches Spanish I at Avon Middle School North in Avon, but is a veteran of eight years teaching a variety of language classes including German I, exploratory world languages, and reading.  Clark was the Avon teacher of the year in 2013 and was a semi-finalist for Indiana Teacher of the year for 2014.
Clark is a very active leader in the school, expanding her responsibilities far beyond the classroom. She coaches cross country and track, assists students with homework at after school study tables, sponsors World Language Club, and serves as department chair. Ever seeking ways to expand her students' horizons, Clark has led six student trips to Latin America, Europe, and the Caribbean. 
Jill Kaufman
Kaufman has taught kindergarten, 2nd grade, and 3rd grade at Ox Bow Elementary in Elkhart and has spent 18 years in teaching including three years in California before becoming a teacher in northern Indiana. Kaufman's superintendent Wayne Stubbs said her students see her as a model for pushing to become the best they can be and to continue learning.
Creativity is the key to Kaufman's teaching style, allowing students the opportunity to choose a pathway in their learning trajectory. To do this, she integrates technology that can inspire, motivate, and engage the students. She also brings music, movement, and the arts into the classroom as often as she can and believes the arts are essential to educating her students.
Because of her extensive experience with technology, Kaufman has presented workshops on blogging, online publishing, and iPad apps. She says she is continually seeking new ways to use technology to support learning.
Karen Koelm
Koelm has taught math at Valparaiso High School for 16 years and chaired the math department for the past five years. She has taught all levels of high school math.
One of the first teachers to introduce web-based instructional courses at Valparaiso High School, Koelm is known for innovative work with technology.  As a member of the district level technology committee, she works to develop the variety of instructional techniques used in the classroom. She has focused particularly on expanding teacher training with technology and access to resources.
In 2013, Koelm was award a Lilly Teacher Creativity Grant. She has used the grant to hike the Appalachian Trail, documenting her journey and using the preparation for the trip and its outcome as teaching tools in the classroom.
James Lang
Lang is a journalism and English teacher at Floyd Central High School in Floyds Knobs. He also advises the student newspaper, The Bagpiper.
Lang is also the newspaper coordinator for the Indiana University School of Journalism's High School Journalism Institute, is a former president and executive board member for the Indiana High School Press Association, and has participated in the Indiana University Southeast Writing Project. He has taught at Floyd Central since 1996. Prior to this, he taught journalism and English at Greencastle High School.
Under Lang's leadership, the Floyd Central students have made an impact on their community. When four elementary schools closed to close budget shortfalls a few years ago, the stories his students did for the school newspaper were so insightful the local newspaper re-published many of them.
Jason Schackow
Schackow is an English teacher from Lakeland High School in LaGrange. He is trained in project-based learning by The New Tech Network and has become a strong advocate of that method of teaching over the past five years.  Schackow spends most of his classroom time co-teaching World History and World Language as well as some mass media courses.  In addition to his teaching load at the school, he is also an instructional coach at Lakeland and a professional development consultant. 
Schackow's professional development work has allowed him to work with teachers from kindergarten through college, including work with faculty at the University of Saint Francis.  He says his real passion is inside the classroom where he can help students shape and polish their content knowledge and 21st century skills to prepare them for a future full of jobs not yet created. Schackow's principal Rise Herbert calls him a "reflective teacher who gives students a voice in their own learning."
Wendy Tamborrino
Tamborinno is a fifth grade teacher and building technology coordinator at Binford Elementary School in Bloomington.  She has been a public school educator since 1986, teaching Kindergarten, second grade, and fifth grade, and has also taught pre-service teachers enrolled in the computer endorsement program at the IU School of Education.
Tamborinno is a member of the Monroe County Community School Corporation Teacher Evaluation Model Committee, a work group charged with creating the new evaluation model for all certified staff. She has served on district level committees, presented at district and state technology conferences, received leadership training, provided coaching to support and sustain the district-wide professional learning communities initiative. She has also attended numerous professional development workshops that focus on the art and science of teaching.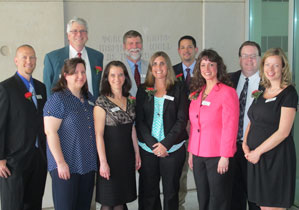 The 2014-15 Armstrong Teacher Educators, front row from left, Jason Schackow, Karen Koelm, Jill Kaufman, Julie Beaty, Wendy Tamborrino and Susi Clark; and back row from left, Peter Berg; Pete Kloosterman, the Martha Lea and Bill Armstrong Chair in Teacher Education; Eric Ambler; and James Lang.