IU School of Education honors top tech teachers with latest Jacobs Educator Awards
The Indiana University School of Education has announced its latest class of Jacobs Teacher Educators. The annual Jacobs Teacher Educator Award honors teachers from Indiana and across the country who use technology to support innovative, inquiry-based teaching and learning activities in their classrooms.
This year, four teachers -- three from Indiana and one from Illinois --- earned the honor out of a pool of 20 high-quality applicants. The IU School of Education honored the latest group of teachers in the annual "Call to Teach" ceremony Nov. 9 at the Wright Education Building in Bloomington.
"The Jacobs Teacher Educator program provides Indiana University School of Education students and faculty with opportunities to interact and collaborate with innovative teachers who are using technology in the best possible ways to support teaching and learning," said Thomas Brush, the Barbara B. Jacobs Chair in Education and Technology. "Over the course of the year, these award winners have committed to working with us to enhance our teacher education curriculum as well as research projects to help us better understand the ways technology can be used to support inquiry-based instruction."
Each teacher selected receives a $1,500 stipend at the end of the one-year appointment and $1,000 toward purchasing technology resources to support his or her teaching, as well as funds to support travel to Indiana University for professional development events throughout the year. Each of these teachers has committed to working with the School of Education throughout the year to share expertise and experience with teacher education students and faculty.
The 2013-14 Jacobs Teacher Educators are:
Mary Kolf Tapia, art specialist at Lyon Elementary School, District 34, Glenview, Ill.  Tapia has taught kindergarten through sixth grade in Glenview for 17 years, focusing her work on how all the arts can communicate a message. In particular, Tapia's work with students in kindergarten through second grade has aimed to help make students' learning and thinking "visible."
Among her other projects is a collaboration with Glenview music teacher Gary Wendt. Together, they co-plan and teach inquiry-based lessons in an effort to help every student build aesthetic literacy, creative thinking, collaboration skills and love for the arts in the way that is most accessible to each student.
Tapia and Wendt have continued the work outside school as well. Together, they created "The Innocent Wisdom Project: a collection of creative collaborations."  The Innocent Wisdom Project is designed to help groups of people find a common message and collaborate to create a presentation of their message.
Steve Auslander, fifth-grade teacher at Allisonville Elementary School in Indianapolis. Auslander has taught for 12 years, always with a passion for integrating technology with instruction. He piloted the first "Bring Your Own Device" policy in his township, allowing students to show what they know in their own creative ways.
Auslander is an avid global collaborator. Through "Partnership 2Gether," a program of the Jewish Agency for Israel to connect Israelis to others around the world, Auslander has enjoyed a virtual pen pal relationship with students in Israel. He also partnered with the nonprofit group that supports schools in developing countries, "School-to-School International," to spearhead construction of a well for an entire school community in Guinea, West Africa.  
Above all, Auslander values creativity. He demonstrates this through his musical alter-ego, "Mr. A-LO." He has copyrighted more than 20 math songs to the tunes of popular music. Taking part in the Imagination Foundation's Global Cardboard Challenge to design and build creations with cardboard, Auslander's fifth-graders created a cardboard ISTEP Arcade used to review state test math skills. He also has a blog, "Learning Rocks Outside Box."
Jeff Peterson, seventh-grade science teacher, Center Grove Middle School, Greenwood. As a classroom teacher, Peterson strives to make his science lab a dynamic, 21st-century learning environment for his students. In 2011, Peterson spent five months teaching in India as a Fulbright Exchange Teacher. He was voted the Indiana Computer Educators Teacher of the Year for 2009 and was an IPL Golden Apple Award recipient in 2010.
He completed his master's in educational technology at the IU School of Education at IUPUI, and he uses technology to provide a new framework where he can rethink his instruction, assessments and student learning. Peterson says the use of technology allows him to go beyond the science textbook and the classroom while empowering him with an influential lever for change.
Before becoming a science teacher at Center Grove in 2001, Peterson worked as an area manager at the Indianapolis Zoological Society. He has received many other awards during his career, including the Armstrong Teacher Educator award from the IU School of Education for 2009-10, the Center Grove Education Foundation 2009 Outstanding Faculty Award, as well as numerous grants from the Center Grove Education Foundation.
Troy Cockrum, middle school language arts teacher, St. Thomas Aquinas School in Indianapolis. Cockrum conducts training and consulting across the country, specializing in incorporating technology into the classroom, especially through Google Apps for Education and Flipped Learning. In 2011, he was invited to attend the Google Teacher Academy and became a Google Certified Teacher.
He is also a member of the Flipped Learning Network Cadre, educators endorsed by the Flipped Learning Network to train and present on Flipped Learning; he also hosts the weekly Flipped Learning Podcast on the EdReach Network. He recently published a chapter in the book "Flipped 2.0: Practical Strategies for Flipping Your Classroom" and has another book to be released this winter, "Flipping Your English Class to Reach All Learners: Strategies and Lesson Plans."
The Jacobs Teacher Educator Award became possible though a $1 million gift from the late Barbara B. Jacobs. Her previous philanthropy established the Jacobs Chair in Education and Technology in 1998. For more information, visit the Jacobs Teacher Educators website or the Jacobs Teacher Educators' Facebook page.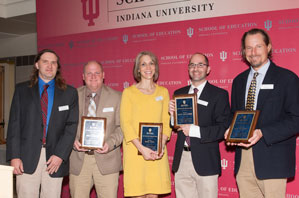 From left, Tom Brush, the Barbara B. Jacobs Chair in Education and Technology; Troy Cockrum, language arts teacher, St. Thomas Aquinas School, Indianapolis; Mary Kolf Tapia, art specialist, Lyon Elementary School, Glenview, Ill.; Steve Auslander, fifth-grade teacher, Allisonville Elementary School, Indianapolis; and Jeff Peterson, science teacher, Center Grove Middle School, Greenwood.