Grant to IU aims to improve completion at minority-serving higher education institutions
Lumina Foundation has granted Indiana University $96,900 for a yearlong effort to create a plan to help minority-serving higher education institutions improve student degree completion rates.
The project, "Leading to Completion," will be developed by Charlie Nelms, senior scholar at the American Association for State Colleges and Universities, and Victor Borden, professor of educational leadership and policy studies at the IU School of Education and senior advisor to the IU executive vice president for university academic affairs. Work has already begun on developing preliminary materials, with the goal of creating a plan and selecting initial participating institutions by next fall.
The co-investigators on the project bring a wealth of experience in higher education to the project. Nelms is the former chancellor of North Carolina Central University, the University of Michigan at Flint and Indiana University East, and he is the former IU vice president for institutional development. The American Association for State Colleges and Universities appointed him as senior scholar in December 2012, giving him the charge of leading the organization's "Project Degree Completion" in cooperation with the Association for Public and Land Grant Universities.
Borden is an extensively published scholar on institutional assessment and program effectiveness. He has served as a director of institutional research operations at three large public universities. Since 1990, Borden has tracked degree completion among students of color for the journal Diverse Issues in Higher Education.
Lumina Foundation is an independent, private foundation based in Indianapolis committed to increasing the proportion of Americans with high-quality degrees, certificates and other credentials to 60 percent by 2025. Lumina's outcomes-based approach focuses on helping design and build an accessible, responsive and accountable higher education system while fostering a national sense of urgency for action to achieve Goal 2025.
The project headed by Nelms and Borden focuses directly on about 150 public institutions that qualify as "minority serving" by virtue of the enrolled students' demographics. These institutions represent about 6 percent of all U.S. colleges and universities granting bachelor's degrees, but they enroll over one-quarter (27 percent) of all minorities at those colleges and universities.
Minority-serving institution graduation rates have long lagged other public colleges and universities. The composite six-year graduation rate for first-time, full-time students in 2010 at minority-serving institutions was 42 percent; among all other public four-year institutions, the graduation rate for 2010 was 60 percent. However, this performance gap can be entirely attributed to differences in institutional selectivity, student family affluence, and student family and employment obligations. In other words, public minority-serving institutions do as well as other public bachelor's degree granting institutions given the characteristics of students they enroll.
"While MSIs do a commendable job of educating first-generation students from low-wealth backgrounds, they must do an even better job if America is to meet President Obama's goal of having 60 percent of all Americans possess a postsecondary credential by 2020," Nelms said.
Over the next year, Nelms, Borden and a national advisory team will develop a detailed process, along with materials that will be implemented initially at five to eight selected minority-serving institutions. By next fall, the project will produce a curriculum for leadership development; materials and protocols for a self-study; an action plan including a site visit by a project team that reviews the institution's capacities, assets and needs; and identification and training of the initial review teams. Additionally, the project will solicit funding partners to carry out the plan on each campus.
"Given the long history of collaboration between Indiana University and historically black colleges and universities, for example, the university is ideally suited to take a leading role in assisting MSIs with increasing degree attainment rates," Nelms said.
"Participating institutions will be committing to a rigorous and disciplined process that, if adhered to, should result in significant improvements in completion rates," Borden said. "This has been demonstrated at several institutions, including IUPUI, where graduation rates increased from under 25 percent to nearly 40 percent over the past 10 years."
Nelms and Borden will report on the project in published articles and presentations. The project will also publish results on a project website.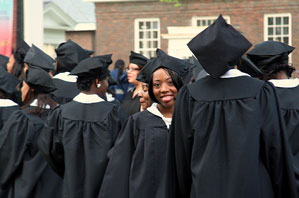 Photo via (cc) Flickr user stevendepolo.