Class of '63 closes campaign to support next generation of teachers
Alumni from the Indiana University School of Education class of 1963 concluded a successful fundraising campaign on Saturday with a presentation to the School's alumni board.  The group presented a check for $25,155 to go into the Education Class Campaign Scholarship fund. The money benefits the Direct Admit Scholars program, a program that recruits highly qualified students for teacher education to be directly admitted into the IU School of Education. In total, since the Education Class Campaign Scholarship drive began, $78,000 has been raised.
"I am very proud of our class," said Sandra Moberly, co-chair of the campaign. "The Class of '63 is a generous group, and they were motivated to give because they know scholarship support is so important."
The Direct Admit program attracts the best and brightest students to the School of Education.  Offering scholarship support, invitations to special events, and personalized advising, Direct Admit scholars are admitted directly to the School of Education from day one on campus.  Highly qualified incoming freshmen are invited to apply for direct admission into the School of Education each year.
Jori Gonzalez, a senior Direct Admit student studying elementary education, is the first-ever recipient of the Education Class Campaign Scholarship.
A native of Naperville, Illinois, Gonzalez said that she's known for a long time that she wanted to teach.  "I had really great teachers when I was younger," she said, "and I want to pass that along."  The Direct Admit program has been an important part of her experience at the IU School of Education, spurring her involvement in the Direct Admit Council – a group of Direct Admit students that take a leadership role within the School, organizing events, and serving as mentors to younger students.  
Receiving the 2013-2014 Education Class Campaign Scholarship has meant a lot to Gonzalez, as well.  Not only has the money eased her financial burden, but "it means a lot that my scholarship came from alumni," she said.  "Everything at IU has history behind it.  As a student, when you're on campus, you're very aware that there have been many people who've come before you.  I love that I'm a part of that now."
As future classes continue to celebrate their fifty-year reunions by fundraising for this scholarship, more students will receive support in the future.  "I'm proud that we were able to build on the success of our predecessors in the class of '62," said Martha Street, campaign co-chair.  "I look forward to seeing what the class of '64 will do next year."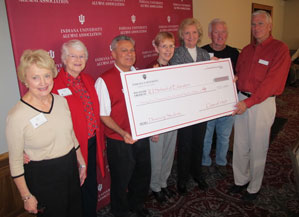 Class of 1963 committee members present their fundraising total to IU School of Education Dean, Gerardo Gonzalez, and Alumni Board President, Doug Williams (left to right:  Sandra Moberly, Erdine Simic, Gerardo Gonzalez, Shirley Gut, Martha Street, Ronald Hancock, and Doug Williams).