Alumna Jacobsen honored as IU Foundation "Partner in Philanthropy"
On Nov. 1, Indiana University and the Indiana University Foundation honored five individuals as the 2013 Partners in Philanthropy, including IU School of Education alumna Jamia Jacobsen. Indiana University President Michael A. McRobbie and IU Foundation President and CEO Daniel C. Smith presented the awards, recognizing exceptional volunteer leaders whose vital service and contributions help shape the future of the university at the highest levels.
"The five individuals recognized as this year's Partners in Philanthropy represent the very best ideals upon which Indiana University has operated for nearly two centuries," IU President Michael A. McRobbie said. "Their steadfast commitment to the well-being of others, as demonstrated through their extraordinary acts of generosity and volunteerism, has contributed greatly to the university's service mission and has strengthened communities across Indiana. We are proud to call them friends of Indiana University and are enormously grateful for their ongoing support."
Honorees received one of three awards for exceptional volunteers and friends of IU: the Cornerstone, Keystone and Herman B Wells Awards. Each year nominations are solicited from all IU campuses. The recipients are selected by a committee composed of representatives from Indiana University-Purdue University Indianapolis, IU Bloomington and regional campuses.
"Our Partners in Philanthropy have demonstrated a lifelong commitment to improving the human condition through research and education at Indiana University," said Dan Smith president and CEO of the IU Foundation. "Right now, empowered by private support, IU researchers are making discoveries that will touch countless lives and student teachers are learning to inspire our next generation of young minds. Our Partners in Philanthropy, through their generous gifts of time, advocacy and private support, are setting in motion a ripple effect that will live on for years to come. And we are immeasurably grateful."
The Keystone Award, which recognizes those individuals who have shown exemplary volunteer leadership through multiple IU fundraising campaigns, was presented to Jamia Jasper Case Jacobsen.
Jacobsen is part of her family's six generations of Indiana University graduates.  Having earned three degrees herself from the School of Education (BA '62, MS '75 in Special Education and Ph.D. '83 in Special Education), Jacobsen's loyalty and service to Indiana University is truly remarkable. A life member of the Indiana University Alumni Association, she has served on the IUAA's Executive Council, as President of the School of Education's Alumni Association Board of Directors and as an active volunteer with the Kappa Kappa Gamma sorority.
Jacobsen has also made significant impact from a fundraising perspective. Since 2001, she has been a Well House Society Associate where she has been active in efforts to raise greater unrestricted support for IU.  In honor of her late father, she also organized and led the effort to establish the Paul George Jasper Scholarship in the Maurer School of Law. In 2012, Jacobsen chaired the School of Education's inaugural 50 year class anniversary scholarship committee, raising funds to support high ability students pursuing teaching as a profession.
Professionally, her great passion for education and counseling is particularly focused on the prevention of child abuse. As a result, she founded the Central Indiana Family Support Center, serving as director of this eight-county Child Abuse and Neglect Center from 1980 until 1986. Through this work, Jacobsen's commitment and skill in addressing this terrible issue was recognized by then-President Ronald Reagan who appointed her to serve on the National Child and Abuse Board from 1986-1990. After completing this term of national service, Jacobsen continued her good work by founding The Family Counseling Center, Inc., a 13 Therapist and Psychiatrist Center, serving as its president until 2004. Jacobsen is the author of hundreds of published articles, author/editor of three books, and has served as adjunct faculty at IU Bloomington, IUPUI and IU Kokomo.
In reflecting on her affiliation with the School of Education, Jacobsen notes, "I have always felt that the IU School of Education gave me the knowledge of the world around us.  My professors taught me how to build opinions and develop my points of view in ways that allowed me to gain a better perspective on life.  The skills I learned not only opened doors to brilliant career opportunities, but gave me the tools to help others." 
The others honored with Partners in Philanthropy awards are Adam Arceneaux, the Keystone Award; Dr. Rafat Abonour and James R. Hodge, the Cornerstone Award; and Ernestine Raclin, the Herman B Wells Visionary Award. You can read about all of the award winners here.
About the IU Foundation: 
Founded in 1936, the Indiana University Foundation maximizes private support for Indiana University by fostering lifelong relationships with key stakeholders and providing advancement leadership and fundraising services for campuses and units across the university. Today, the foundation oversees one of the largest public university endowments in the country with a market value in excess of $1.7 billion. In fiscal year 2013, IU received $305.9 million in support from the private sector. IU is consistently ranked among the top four of Big Ten universities in annual voluntary support.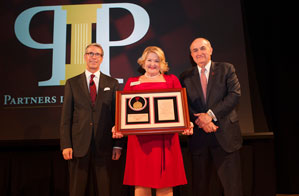 From left, IU Foundation President and CEO Daniel C. Smith, Jamia Jacobsen, and IU President Michael McRobbie.