Policy brief offers advice, notes challenges with new Indiana teacher evaluations
Center for Evaluation and Education Policy and Indiana Institute on Disability and Community provide analysis
A policy brief from two Indiana University centers provides insight into what schools, school corporations and teacher preparation institutions should take into account to comply with Senate Enrolled Act 1 passed during the 2011 Indiana General Assembly.
The report, released by the Center for Evaluation and Education Policy and the Indiana Institute on Disability and Community, notes that university-based teacher preparation will need to step up its game to remain effective and relevant as Indiana schools implement new systems of teacher and principal evaluations; and that schools should be aware of potential legal challenges as they develop and carry out new, performance-based evaluations.
The legislation requires school districts to evaluate and rate teachers and principals annually. The districts must also develop objective measures of student achievement and growth, along with a measurement of teaching effectiveness. Under the legislation, teachers deemed to have negatively affected student achievement and growth cannot receive an "effective" or "highly effective" rating.
The brief outlines challenges and offers recommendations for action based on information gleaned from the work conducted on evaluation systems to this point. The policy brief is authored by Sandi Cole, director of the Center on Education and Lifelong Learning in the Indiana Institute on Disability and Community; Hardy Murphy, retired superintendent in the Evanston-Skokie, Ill., School District 65; Pat Rogan, executive associate dean for the IU School of Education at Indiana University-Purdue University Indianapolis; and Suzanne Eckes, associate professor in the Department of Educational Leadership and Policy Studies at the IU School of Education in Bloomington.
"The primary goal for this brief was to offer a fairly comprehensive view of significant changes in teacher appraisal that can provide guidance to policymakers and educators," Murphy said.
"The work that we are doing through our INTASS project and insights from our districts helped to inform this brief," Cole said. INTASS is the Indiana Teacher Appraisal and Support System, developed by the Center on Education and Lifelong Learning at the Indiana Institute on Disability and Community. "The recommendations the brief offers should be of particular interest for state policymakers, especially the concerns related to evaluator training and certification."
The brief notes that traditional teacher and educational leadership preparation programs based at colleges and universities must evolve to align with the new regulations as well as to stay current and relevant. To that end, the authors recommend pre-service teachers gain critical skill sets through their experiences in education courses and classroom practicums. That experience must include theoretical concepts of instruction and how to use them in classroom instruction, content expertise, cultural competency, as well as the ability to understand how learning develops and how to analyze student performance. The brief suggests colleges and universities partner with area schools to implement the strategy.
"Given the demands on teachers to effectively teach an increasingly diverse student population within an environment of higher standards and expectations," Rogan said, "it is imperative that universities and schools collaborate in the development of preservice and inservice teachers and school leaders.  Through intensive field-based experiences aligned with demonstrations of critical core competencies, we can co-prepare future educators to be highly effective and successful."
As schools enter new territory with the evaluations, the authors note schools can anticipate potential legal challenges about teacher evaluation. To mitigate such issues, they recommend school corporations ensure teachers get a copy of an evaluation within seven days and any remediation plan be clear and in keeping to the statute's 90-day requirement.
"Recent lawsuits challenging state teacher evaluation law were filed in Florida and New Mexico," Eckes said. "These lawsuits will be interesting to monitor."
Other recommendations in the brief include several quality control measures, such as oversight committees and steps to ensure fair and accurate collection of observation data, to make sure school corporations have quality evaluation plans. The brief also suggests the state should establish a review process and determine model implementation sites to make sure evaluation plans are carried out as efficiently as possible and establish standards and certification for evaluator training.
Finally, the authors recommend aligning professional development with teacher evaluation data and moving toward developing a process to certify all who will be rating teachers. Because the bill passed without additional funding to school corporations, the brief calls on states to ensure resources are available for implementing the plan and recommends school corporations seek grant funding to support their efforts.
The education policy brief also contains additional insight from Brenda Pike, executive director of the Indiana State Teachers Association, as well as Bradley Balch, dean of the Bayh College of Education at Indiana State University, and Steve Gruenert, chair of the Educational Leadership department at Indiana State.
The Center for Evaluation and Education Policy, one of the country's leading nonpartisan education policy and program evaluation centers, promotes and supports rigorous evaluation and research primarily, but not exclusively, for educational, human services and nonprofit organizations. Center projects address state, national and international education questions. CEEP is part of the IU School of Education.
The Indiana Institute on Disability and Community, Indiana's University Center for Excellence in Disabilities, works to increase community capacity in disability through academic instruction, research, dissemination and training, and technical assistance. The institute receives support from the Office of the Vice Provost for Research at Indiana University Bloomington. OVPR is dedicated to supporting ongoing faculty research and creative activity, developing new multidisciplinary initiatives and maximizing the potential of faculty to accomplish path-breaking work.  
Department of Educational Leadership and Policy Studies at the IU School of Education.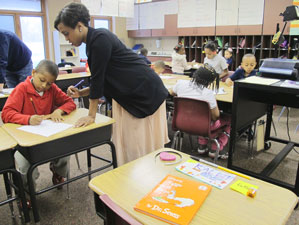 Classroom at Snacks Crossing Elementary School in Indianapolis.