Indiana Teacher of the Year latest IU graduate to win honor
North Central High School's Steven Perkins adds to long list of award-winning alumni
The Indiana Department of Education announced this morning that Steven Perkins, Latin Teacher at North Central High School in Indianapolis, is the 2014 Indiana Teacher of the Year. Perkins is a 1991 Classical Studies graduate of Indiana University. While earning his bachelor's degree in the College of Arts and Sciences, he completed secondary education coursework in the IU School of Education to earn teaching certification. Indiana Superintendent of Public Instruction Glenda Ritz made the announcement during a special ceremony at North Central.
Ritz surprised Perkins by bursting into his classroom this morning with a throng of media, administrators, staff, and family. "It's an extraordinary honor," Perkins said, expressing surprise at the announcement. "With faculty like we have at North Central, to be selected from among that group is amazing and additionally to have been selected among your peers."
Perkins said he came to Indiana University sure he wanted to be a Latin teacher. He said he spent a lot of time in Ballantine Hall, home of the Department of Classical Studies as well as in the School of Education. He took many teacher preparation courses at the same time as his wife Melissa, also a Latin teacher who earned an IU School of Education degree in 1991. Perkins said the combination of content and classroom preparation set him for his career. "IU Classics has always been one of the top ten classics programs in the United States and the School is obviously renowned, so it had exactly what I was looking for," he said. Over the years, Perkins has returned to campus with students to conduct research projects at the library and sit in on IU classes.
"We congratulate Steven Perkins on earning this tremendous honor," said Gerardo Gonzalez, dean of the IU School of Education. "We are very proud of our IU graduates who can take full advantage of the many program options we offer to learn both content knowledge in their chosen field and classroom preparation from some of the finest faculty in the world. His example is the most recent that demonstrates why teachers who hold IU degrees are among the best anywhere."
Perkins is the 4th consecutive Indiana University graduate to earn Indiana Teacher of the Year honors and the 7th in the last 11 years. Last year's honoree, Suzanne Whitton, is an art education graduate from the Herron School of Art at IUPUI who also completed teacher preparation coursework at the IU School of Education at IUPUI. The teacher of the year for 2012, Huntington's Melanie Park, and 2011, Mishawaka's Stacy McCormack, are IU School of Education alumni.
After leaving Indiana University, Perkins taught Latin at King Latin Grammar Middle School in Kansas City, MO for two years, then went on to earn a master's degree in classics at the University of Texas at Austin. He taught Latin at the University of Texas, Austin Community College, and LBJ High School in Austin. He has taught at North Central in Indianapolis since 1998.
The Metropolitan School District of Washington Township named Perkins the teacher of the year at the end of the last school year. "As a master teacher, Mr. Perkins brings a "dead language" to life by demonstrating enthusiasm, strong communication skills and a willingness to infuse every lesson with creativity," wrote Washington Township Superintendent Nikki Woodson in recommending Perkins for the state honor. "His passion for learning is contagious and his ability to inspire young learners is to be admired." 
"We try to connect it to students' lives," Perkins said of how he teaches Latin. "We have a number of projects where we get students out into the community, using what they've learned to help others. So I think that's one of the ways we do that."
An Indiana Department of Education committee including department personnel, past Teacher of the Year honorees and external community and education leaders selected Perkins as the Teacher of the Year after interviewing 10 finalists and making classroom visits. Perkins will be Indiana's nominee for the 2014 National Teacher of the Year honor.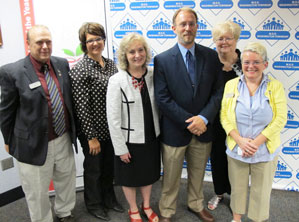 2014 Indiana Teacher of the Year Steven Perkins (center, blue jacket) with the state schools superintendent and past Indiana Teachers of the Year, including IU alumni. (L-R) Mark Weaver, 2004 TOY; Molly Seward, 2005 TOY (B.S., IU School of Education at IUPUI); Ind. State Schools Supt. Glenda Ritz; Perkins; Judy Fraps, TOY 1997 (B.S.'69, IU School of Education); and Louisa LaGrotto, 2006 TOY (M.A. for Teachers '90).