Education faculty study aims to engage elementary students in complicated science concepts
The National Science Foundation is granting just over $1 million to a new project by researchers at the Indiana University School of Education and UCLA to use the latest technology to literally take elementary-age students inside complex science concepts to help them learn more effectively.
Joshua Danish, assistant professor of learning sciences at the IU School of Education, is co-primary investigator and Noel Enyedy, associate professor at the Graduate School of Education and Information at the University of California, Los Angeles, is primary investigator on "Science Through Technology Enhanced Play," or STEP. Other co-primary investigators on the project are Jeffrey A. Burke and Carlos Wagmister, both faculty in the School of Theater, Film and Television at UCLA.
The goal is to have students learn more about how the scientific world behaves by taking advantage of children's predilection for play, using motion capture technology that will allow students to understand things such as the laws of physics or the behaviors of honeybees.
"We're developing a platform that uses motion capture technology and augmented reality to enhance early elementary students' play activities," Danish said. "They can then use their enhanced play activity as a model to explore science content."
Danish said the goal of the project is to transform how researchers and teachers think about teaching early elementary science, demonstrating that, using the right technology, young children can learn advanced topics by taking advantage of their inherent desire to play. Traditionally, elementary science teaching has steered clear of complicated science concepts on the assumption that young children were not developmentally able to engage deeply with such concepts. Through STEP, Danish and Enyedy intend to create a model that will allow children to use "socio-dramatic" play within computer simulations that demonstrate scientific modeling.
During an exploratory grant, also funded by the NSF, Danish and Enyedy successfully used this augmented-reality method to teach physics. In that scenario, one child played the part of a ball being rolled across the floor and would use playacting to show how forces affected their movement. Students would then compare this playacting with a computer's predictions to see whether their ideas matched a scientific account of how the ball would be affected by forces.
"We would have these really great conversations around the differences, if there were any, as students really learned to understand the rules of physics," Danish said.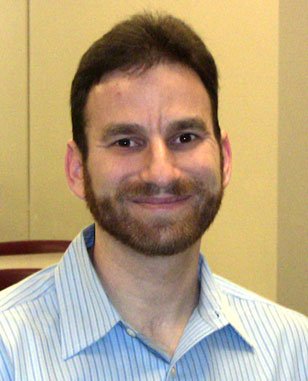 The STEP project intends to ramp up that effort while also extending into the domain of biology by exploring how honeybees collect nectar. Danish said the biology unit in STEP will build upon the already successful "BeeSign" work that Danish has done at the IU School of Education, as well as the "BeeSim" work that he completed with IU School of Education colleague Kylie Peppler.
BeeSign is a computer simulation developed by Danish that helps students understand how a whole hive of honeybees collect nectar from a complex systems perspective. BeeSim complements this by helping students focus on the behaviors of individual bees by playing games using bee e-puppets that allow them to explore the challenges that individual bees face as they collect nectar. (Danish and Peppler, along with IU biology department faculty member Armin Moczek, just received another NSF grant to build on e-puppet work teaching complex systems). Findings from these prior studies will help Danish and Enyedy identify design features that support students in learning from both play and simulations.
"Exploring both biology and physics lets us develop a richer understanding of how these techniques work across contents, contrasting physics, where one child might be the ball, with honeybees, where we might have 20 bees running around," Danish said. Within that, Danish said he'll be examining the role of playing, contrasting game-like situations with actual role play or play acting.
"The more we understand about that, the better we can make sense of both how they understand the content in general and how implementation of these kinds of technology might be effectively integrated into classrooms," Danish said.
Work on the project will involve classrooms in California and Indiana. Project funding will provide for equipment that will go into the schools. Danish said the project will experiment with technology to determine long-term cost-effective tools that are available to teachers. He and his partners will also develop open source software so it can be made freely available to educators.
The project spans three years, a time in which Danish expects technology may develop that would make using these tools for learning cheaper and easier than today. Regardless, he said it's important to engage students with these tools to take advantage of what educators have known about how children learn for some time.
"What we know from many years of research is that if we just tell kids what's going to happen, then they forget," Danish said. "When they are experiencing it, playing and reflecting deeply, representing their ideas in really nice ways with drawings or play, those ideas stick."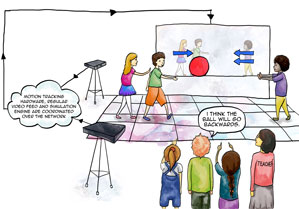 Diagram of how motion capture software could be used to teach physics. | ILLUSTRATION BY REN RONG OF THE UCLA SCHOOL OF THEATER, FILM AND TELEVISION