Conference focuses on providing a voice for those who struggle to communicate
School of Education, Indiana Institute on Disability & Community host Clinical Augmentative and Alternative Communication Research Conference
Researchers from institutions across the Midwest and other areas of the country gathered at Indiana University Bloomington for a three-day conference starting Thursday, Sept. 26, focused on helping give voice to those who have difficulty communicating. The 7th annual Clinical Augmentative and Alternative Communication Research Conference, hosted by the IU School of Education and held at the Indiana Institute on Disability and Community, was organized by Erna Alant, conference chair and Otting Chair in Special Education.
Around forty researchers gathered for presentations and discussion focused on research issues in Augmentative and Alternative Communication ( AAC), a field of study centered on finding solutions for people with severe communication problems to communicate in the best manner possible. All who attended submitted an original paper or poster to discuss during the conference.
As the event opened, Alant observed that the participants all have research angles from different areas of study. "Clearly, this is a multidisciplinary group of researchers," Alant said. "Some of them are special ed, some of them in medical facilities, quite a few of them in speech and hearing."
The topics covered a range of AAC areas, from using "Text-to-Speech" technology to help adults with traumatic brain injury communicate to the use of effective teaching strategies for children born deaf and blind to achieve communication and literacy. Alant herself presented on another aspect of communication:  the way educators in different cultures perceive interactions with children who have severe communication problems. "I am presenting on the cross-cultural research that we've done in terms of teachers' perceptions of children with severe communication problems and how they experience these children in the classroom," she said. "It was just fascinating, because you really see the differences between countries." Alant noted that several presentations focused on communication issues from an international perspective.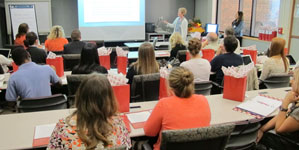 Not surprisingly, the latest technological developments were a large part of the discussion. Alant said better use of communication technology is traditionally a main concern in AAC research. "People who are not able to use their hands to activate a button to get speech output have to use  head pointing or eye-gaze to access communication technology, for example," she said. "How do we speed up the access, because nobody's prepared to wait for 5 minutes for one person to say one sentence? These are the kinds of issues that we're grappling with. But I think with the iPad, for example, we are just starting to scratch the surface of what we can do."
The organizers hoped participants gained valuable insight to help spur more innovation upon the conclusion of the conference. The conference web site notes that the end goal of the event is to "guide future AAC research in ways that will optimize the life experience of people who use AAC."
More about the current conference as well as links to past conference information and materials is available on the conference web site.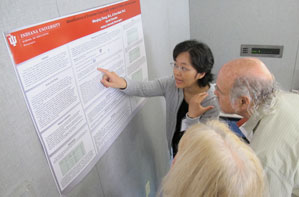 Wenjing Zheng, associate instructor in the special education program at the IU School of Education, discusses a poster outlining a study conducted with Otting Chair Erna Alant.