National arts standards project involving IU School of Education and Ivy Tech faculty member beginning public review
The public is invited to review the National Coalition for Core Arts Standards (NCCAS) draft high school national core arts standards for dance, media arts, music, theatre, and visual arts starts on Monday, Sept. 30 through Monday. Oct. 21. As part of that, on Tuesday, Oct. 1, the NCCAS will host an online town hall-style meeting to provide updates on the projects and a summary of the data collected to this point. A link to the town hall will be available through the NCCAS web site.
The NCCAS holds a public "town hall" meeting as a part of its arts standards project. Dr. Gustave Weltsek, the coordinator of the IU Drama and Theatre in Education License Program and Chair of the Arts and Humanities Department at Ivy Tech Community College-Bloomington, is on the Theatre Writing Team of the project.
"It is my hope that these new standards aid in some way the growing scientifically-validated proof that an education rich with arts infused pedagogies is essential to a student's intellectual, social, emotional and academic success," Weltsek said. 
The NCCAS, a coalition of eight national organizations, organized in 2011 to begin reviewing voluntary arts education standards to help guide teachers and others who develop curriculum. Aside from Weltsek's Theatre Writing Team, other teams are focusing on standards for dance, visual arts, and music curriculum. So far, the organization has completed a public review of draft Pre-K through 8th grade standards. A final public review of revised Pre-K-12 standards begins in January. The NCCAS projects releasing the finished standards in March, 2014.
Weltsek has worked toward making the arts an integral part of the way people think about and understand education, particularly using a pedagogy of social justice and equity. Since joining the IU faculty four years ago, he has led pre-service teachers at the IU School of Education to form the Arts in Education Club, which hosts a series of arts integration workshops and dramatic performances demonstrating techniques for using the arts as sound pedagogy intimately connected to and across the curriculum. These included performances of "The Laramie Project," dealing with the brutal murder of Matthew Shepard, a gay student at the University of Wyoming, and Anna Deavere Smith's play "Twilight: Los Angeles, 1992," confronting the issues presented by the beating of Rodney King and the riots afterward. He also has overseen the formation of the annual "Theatre in our Schools" conference at Indiana University, which has provided a hands-on workshop for students and educators.
More about the process and links to all public documents are available on the NCCAS web site.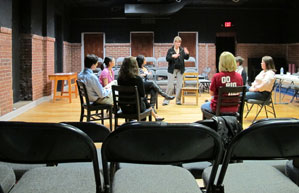 A theatre education class at the Ivy Tech John Waldron Arts Center in Bloomington