Recent alum earns prestigious research award
Brian McGowan
Faculty at Indiana State University
McGowan, a 2013 Ph.D. graduate of the IU School of Education, won an award from the American College Personnel Association (ACPA) during his final year of study. In Fall 2013, McGowan joined the faculty of the Indiana State University Bayh College of Education. Below, he speaks about the award, his work, and his experience at the IU School of Education.
About the honor of winning the award, named for the late University of California-Berkeley psychology professor Nevitt Sanford:
ACPA's Commission for Professional Preparation selected me as the 2013 recipient of the Nevitt Sanford Award. The purpose of this award is to provide financial assistance for research within student affairs. The award may be used to help support dissertations, theses, or specific research projects. It was an amazing feeling to win this award. I particularly enjoyed meeting and interacting with faculty within the Commission for Professional Preparation. Ironically, I have incorporated Sanford's challenge and support theory into how I work with students. This theory suggests that students need a balanced amount of challenge and support for development to occur.
About the reasons he earned the award:
I submitted a proposal based on my dissertation research. My dissertation looks at African American male interpersonal relationships with other men at a predominantly White institution. This award helped with costs associated with data collection and analysis.
About the recent months of making presentations on the research that earned him the honor:
Things have been extremely busy, yet rewarding. I have presented my dissertation research at local and national conventions over the past year. I presented a session at the Indiana Student Affairs Association conference on male interpersonal relationships in college. I also presented my research at different universities across the country during faculty job talks. Recently, I presented a paper at the American Educational Research Association (AERA) with Desiree Zerquera (IU School of Education doctoral student), Vasti Torres (former IU School of Education faculty member, now dean of the College of Education at the University of South Florida, and Tomika Ferguson (IU School of Education doctoral student) exploring college students' experiences with debt and educational expenses. In addition, I serve as the Scholar-in-Residence for ACPA's Standing Committee for Men and Masculinities which has allowed me to meet others interesting in issues related to college men's identity and development.
About where his work has led him:
I am an Assistant Professor in the Department of Educational Leadership at Indiana State University. Specifically, I will be teaching masters students in the Student Affairs and Higher Education (SAHE) program. This summer has been a combination of completing the dissertation, finishing up a manuscript, and preparing syllabi for courses this Fall.
About the experience of earning his doctorate from the Higher Education and Student Affairs (HESA) program at the IU School of Education:
This experience has been rewarding on so many levels. Being a first-generation college student from a lower socioeconomic background, I have learned the importance of taking advantage of educational opportunities. I left my Area Coordinator position four years ago to pursue the doctorate. Reflecting on my experiences in the HESA program, I attribute my success to positive mentors, support networks within and outside of the HESA program, being a good colleague, and remaining humble. One major takeaway is that I am deeply committed to making sure I pay it forward. Choosing the HESA program at Indiana University was the right decision.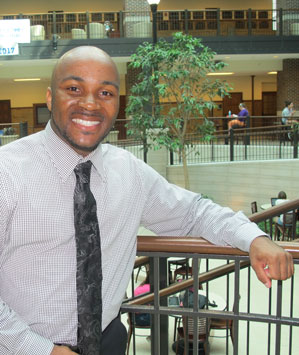 McGowan, a 2013 Ph.D. graduate of the IU School of Education, won an award from the American College Personnel Association (ACPA) during his final year of study.