King march in 1963 "A legacy of soul force"
(As part of an IU Communications media tip release on the 50th anniversary of the March on Washington led by Dr. Martin Luther King on Aug. 28, 1963, IU School of Education faculty member and Director of the Neal-Marshall Black Culture Center Stephanie Power-Carter discussed the legacy of the march. We present her comment here. You can read the full release with comments from other IU faculty here.)
The March on Washington represented a loud crescendo in the fight against injustice as more than 200,000 people demanded change in the nation's capital, says Stephanie Power-Carter, director of the Neal-Marshall Black Culture Center and associate professor in the School of Education at IU Bloomington.
"It is hard to believe," she said, "that it was only 50 years ago that Dr. Martin Luther King Jr. stood at the Lincoln Memorial and declared that he was there to 'cash a check' for life, liberty and the pursuit of happiness, and current congressman and civil rights activist John Lewis declared, 'The revolution is at hand, and we must free ourselves of the chains of political and economic slavery.'
For some, Power-Carter said, the anniversary of the march is a time to reflect on agency and activism. For others, it is merely a story passed down from generation to generation about how it was back then.
"But I believe more than anything, the March on Washington for Jobs and Freedom is a historic symbol of unity -- and, as noted by Dr. King, 'soul force,'" she said. "It is a powerful example of what happens when a diverse group of people, embracing nonviolence, courageously stand united to fight injustice and cheer on change at any cost.
"The march is a legacy of great magnitude that reminds us of our own 'soul force' and that the power of the collective resides in many individuals etching out a better path for the future," she said. "As the date nears to commemorate the anniversary of the march, we must reflect on our freedom: our life, liberty and pursuit of happiness; and we must continue to free ourselves and cultivate our own 'soul force.' Soul force is an infectious tool, and when used to fight injustice can create a ripple that reverberates through history."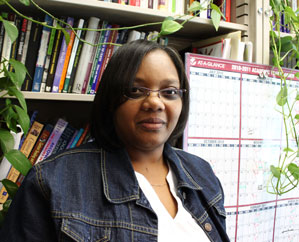 Stephanie Power-Carter