First Balfour Scholars hit campus
Summer group kicks off new program to promote college success for underrepresented populations
Around 90 incoming high school seniors are on the Indiana University campus this week for a new program designed to help them discover their academic and career interests and help them succeed at pursuing them. Students arrived Sunday for the first "Pre-College Academy" of the Balfour Scholars Program. The program is designed to provide students from underrepresented groups with support beginning the summer after their junior year of high school continuing through their senior year. For those who attend IU Bloomington, the support extends throughout their college education.
"We are excited to welcome the inaugural class of the Balfour Pre-College Academy to Bloomington campus," said Christina Wright Fields, the director of the Balfour Scholars Program. "We are proud that our students hail from a number of different backgrounds, bringing a wealth of knowledge and experiences to the summer academy."

The Balfour Scholars Program (BSP) is a project of the Center for P-16 Research and Collaboration (P-16 Center) at the IU School of Education in collaboration with the IU Office of Enrollment Management, Career Development Center, the Office of Vice President for Diversity, Equity, and Multicultural Affairs (DEMA). A pilot program will begin this summer.
Throughout this week, the Balfour Scholars will take part in numerous sessions focused on identity development, personal growth, potential college majors and resulting careers, while also learning more about the IU campus itself. The introduction to items to consider for college even includes sample college classes as well as sessions on financial literacy and scholarships.  On Monday morning, for example, the participants discussed what they foresaw as their ideal job and why (as well as what they considered to be a less-than-ideal job and why). To help inventory their own thoughts, the Balfour Scholars filled out a "values worksheet" to put on paper some of the things they are shooting for in a career. The goal is for Balfour Scholars to develop a personal "road map" of available IUB campus resources they would access as undergraduates to help them achieve their goals.
"Balfour Scholars will be exposed to various pre-college preparation sessions emphasizing  the importance of college choice and college fit,  understanding the financial steps to pursue post-secondary education, exploring possible majors and careers, and attending a variety of college lectures focusing on social and cultural foundations as well as various sample lectures, such as law, psychology, and sociology," Wright Fields said. "Students are participating in a number of activities including  a campus fair, an IMU tour, a campus tour, a student panel, and more."
The Balfour Scholars Program is possible because of an $800,000 grant from the Lloyd G. Balfour Foundation, Bank of America, N.A. Trustee. The Balfour Foundation has a history of providing financial support for programs that promote college access, readiness, and success for underrepresented students. In 2010, the foundation funded a scholarship program at IUB for high-achieving students from under-represented populations.
BSP students come from around the state, though recruiting particularly focused on schools in districts that are P-16 Center "Pathways Partnership" schools, such as Gary Community School Corporation, Pike Township in Indianapolis, and South Bend Community Schools. Pathways schools have partnered with the P-16 Center to work toward improving graduation and college-going rates and better prepare students for 21st century careers.
This week's events will conclude with a Thursday night banquet at the Indiana Memorial Union before a couple of final sessions on Friday morning. Balfour Scholars Program and IU staff will follow up with students later in their upcoming senior year.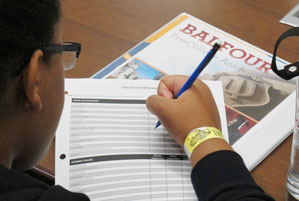 A Balfour Scholar participating in a "values" session on Monday, July 22, 2013.