Words from an excellent teacher: School of Education alumna and Milken Award winner Candace Ewing
In December, 2012, Candace Ewing walked into an assembly at her school that she thought was focused on preventing bullying in schools.  She became more curious in seeing several honored teachers also present for the event in the Snacks Crossing Elementary gymnasium, along with the superintendent of public instruction for the state of Indiana.  And when a representative of the Milken Family Foundation began to speak about the attributes of a particular outstanding educator at her school, she began to wonder who it might be.

In this short video, you'll see that Ewing was stunned to learn that she was the subject of the entire event, called to award her with the 2012 Milken Educator Award for Indiana. There are just 40 handed out across the country each year. Each award carries a $25,000 cash prize.  "I was shocked," she said.


Nonetheless, since that surprising announcement, Ewing, who earned a bachelor's degree in elementary education in 2004 and a master's degree in 2008 from the IU School of Education in Bloomington, has spent much of her time discussing what makes an excellent teacher.  "If the vision behind the award is to empower educators when they are early on in their career, it definitely did that," Ewing said.  Here she shares some of how she approaches teaching and learning.

Ewing is assistant principal of Snacks Crossing Elementary School in the Metropolitan School District of Pike Township, where she has also served as instructional coach and a kindergarten teacher. She grew up in Indianapolis, attending Pike Township schools. Colleagues at Snacks Crossing said she showed great leadership at the school while having a direct impact on students, leading in part to the school achieving Adequate Yearly Progress, the federal measurement of student standardized test achievement, for the first time in spring 2011.

Teacher Magazine dubbed the Milken Educator Awards the "Oscars of Teaching." Education reform leader Lowell Milken created the award in 1985 to celebrate, elevate and activate excellence in the profession. The Milken Foundation has honored more than 2,500 K-12 teachers, principals and specialists coast to coast with over $63 million in individual, unrestricted $25,000 awards.

Ewing is the 22nd IU School of Education alumni to earn the award.  The first two Indiana teachers to earn the Milken Educator Award, in 1993, were alumni Terrance Levenda, Portage High School principal, and Francis Mustapha, a teacher in Fort Wayne. Since then, a large portion of Indiana Milken Award recipients have been IU School of Education alumni. Including Ewing, five alumni have received the Milken Educator Award in the past five years: Wilson Reyes, BS'85, in 2011; Chris Kates, BS'00, MS'11, in 2008; Nicole Law, BS'94, also in 2008; and Jeff Rudkin, BS'85, MS'89, in 2007.

Milken Award recipients are selected by a committee based on criteria that includes effective instructional practices, student performance in the classroom and individual educationalaccomplishments outside the classroom. Nominations come from state departments of education and are considered by the foundation's committee.
In this video, Ewing speaks about her advice to new and more veteran teachers.  She encourages lifelong learning and a view of teaching as a profession.  For those just starting out, she says they should find two or three things they believe in and can weave into all of their teaching.

You can read more about Ewing's thoughts on teaching at her blog, http://www.snazeeteacher.com/.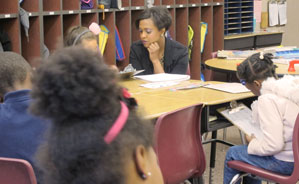 Ewing helping out with students at Snacks Crossing Elementary in Indianapolis.