Alumna promotes college with her third-graders
Kathryn Sullivan (B.S.'12) helps students produce video, brings them to IU campus
Note:  this story appeared originally in the "Inside IU Bloomington" newsletter
By Bethany Nolan, IU Communications
The words came easy to the group of Indianapolis third-graders, huddled in a circle on the floor of Assembly Hall.
After all, they'd listened to them every day for weeks, turning the words about IU basketball's storied history into a personal anthem of pride and achievement.
"Unlike you other schools, we got history … Cause this is Indiana, yeah we do it big … Talking about the Hoo-Hoo-siers …"
Cold Environmental Spring Magnet School teacher Kathryn Sullivan, who graduated from IU in 2012, never dreamed her students would fall so deeply in love with "This is Indiana," the song written by former students Brice Fox and Daniel Weber that went viral last year.
She'd played it for them as part of a class segment about the importance of college, intending to use it to merely introduce her students to the concept of higher education using her alma mater as an example.
"I thought I'd just show them the video, and that would be it," she said. "But it turned into part of our daily routine; I'd play it before tests. I realize it's about basketball, but it really became an anthem for education, about going to college, about achieving their dreams."
The class made a video of themselves acting out the song, which quickly caught the attention of IU athletic director Fred Glass, IU men's basketball coach Tom Crean and administrators on the Bloomington campus.
Through the IU Visitor's Center, the university extended an invitation to the members of the class of 2022: Come visit, and see what college is all about.
Last week, more than 30 third-graders descended on the Bloomington campus, eagerly participating in a scavenger hunt, munching on chicken strips alongside student athletes, legging it to the 50-yard line at Memorial Stadium and viewing IU's five NCAA championship banners in Assembly Hall. They bumped into men's basketball standouts Austin Etherington and Jordan Hulls, and even snapped a photo with hometown hero Hulls, many students sporting cream-and-crimson striped sunglasses that were a gift from President Michael A. McRobbie's office.
The class was greeted at the Sample Gates by IU Provost Lauren Robel, who explained the campus is full of thousands of teachers and that whatever they wanted to be, they could learn how to do it here. Later, the group also heard from Glass, who congratulated them on their "ridiculously good" video and encouraged them to remember that dedication and hard work will take them anywhere they want to go.
Nine-year-old Tristan Wandruff declared the visit "pretty good," but said he's not quite ready to think about college yet. "Not right now," he said. "Maybe next year."
Fellow 9-year-old Paul Johnson called the trip "awesome," saying he liked exploring all the different buildings on campus. Is it too early for him to think about college? "It's never too early to think about college," he told a visitor gravely. "And I think I might want to come here."
Ten-year-old Amillian Easley, who wants to be a pediatrician, had no such qualms: "This place is big, beautiful and awesome … and I will definitely come here."
Sullivan said she was overwhelmed by the university's response to her class, and hopes this visit will impact her students' future.
"I'm hoping this experience will change their perspective," Sullivan said. "I tell them all the time, 'You don't have to go to IU, as long as you go to college.'"
But, the IU alum admitted, she sometimes follows that up with: "Ms. Sullivan would be really happy if you do pick IU, and she'll even help you move into your dorm for freshman year."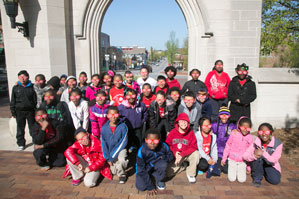 Indianapolis Cold Spring Environmental Magnet School third-graders at IU's Sample Gates during their visit to the IU Bloomington campus (photo by Chris Meyer, IU Communications).