School of Education honors graduates
The Indiana University School of Education held the May 2013 convocation ceremonies on Saturday, May 4, in the Wright Education Building in Bloomington. Family and friends packed the Wright Building atrium for the two ceremonies. The first ceremony at 12:45 p.m. included undergraduate degree-earners from special education, elementary education, and early childhood education. The second ceremony starting at 3:00 p.m. included all other undergraduate program degree-earners as well as graduate students. In all, more than 1,200 students, parents, and others came through the building for the celebration of Spring 2013 graduation.
Student speakers for the convocation ceremonies were Timothy Sokolowski, who earned his bachelor of science in social studies education. Sokolowski told his fellow graduates that he walked away with the firm sense that he was ready to enter the classroom. "We know that we were meant to be teachers," Sokolowski said, noting that the School of Education fostered that feeling.
Graduate speaker Veronica M. Fife-Demski told graduates she was as surprised as anyone to be standing before them after earning her Ph.D. She hadn't initially planned to study for a doctorate, she said, but determined to return to IU (where she earned her undergraduate degree) and seek her curriculum studies Ph.D. She said she drew inspiration to further her studies from a particular student who faced difficult challenges in learning when she was a classroom teacher. "Sometimes life presents us with opportunities," Fife-Demski said, "and sometimes we have to seek new challenges."
Complete streaming video of each ceremony is now online. The 12:45 ceremony can be seen at this link; the 3:00 ceremony is at this link.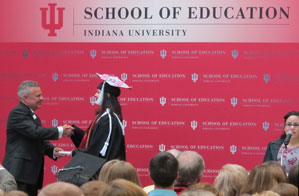 Dean Gerardo Gonzalez presents a graduate with her diploma.