Edmonds named to group of IU's best teachers
Indiana University School of Education faculty Ben Edmonds is one of three new IU Bloomington members of the Faculty Colloquium on Excellence in Teaching, or FACET, an interdisciplinary organization composed of more than 500 of Indiana University's best teachers.  Edmonds was named along with Rasul Mowatt and Carwina Weng
Nominated by a fellow faculty member or administrator, FACET members must have a minimum of four years of service at IU, demonstrate dedication to the excellence of teaching, be committed to their own continued growth through reflection and serve the greater university community by supporting and developing their colleagues' professional growth.
"These three extraordinary faculty members exemplify IU Bloomington's commitment to teaching excellence," Provost Lauren Robel said. "Through a thoughtful, engaged and student-focused approach, they have each opened worlds of learning and discovery. I am extremely pleased to congratulate them on their election to this nationally recognized organization."
Edmonds is the director of the Secondary Transition to Teaching Program in the IU School of Education. Through the Teaching All Learners program, Edmonds prepares undergraduate students for teaching in the classroom through analyzing learning styles, implementing teaching strategies and evaluating results.
"I reflect not only on how I get my message across to students, but also on whether that message is an important one," Edmonds said. "I spend time reading current research and about current trends, and I spend time in the field in classrooms and with school administrators to immerse myself in the events important to our teaching practitioners.
"Growth is accomplished by learning, whether it is personal or professional growth. I never want to stop growing."
Mowatt is an assistant professor in the School of Public Health-Bloomington's Department of Recreation, Park and Tourism Studies.  Weng is a clinical professor of law and director of the Disability Law Clinic.
An additional 14 faculty members in the IU system have been named FACET members this year: Sue Anderson, nursing, IU South Bend; Paula Baumann, nursing, IU East; Tonya Breymier, nursing, IU East; Mary Cooper, dental hygiene, IPFW; Mary Ann Frank, engineering technology, IUPUI; Christina Gerken, women and gender studies, IU South Bend; Bryan Hall, philosophy, IU Southeast; Ranida Harris, business, IU Southeast; Allison Howland, education, IUPUI; Elvinet Piard, social sciences, IU East; Diane Russell, English, IU Southeast; Lisa Siefker-Bailey, English, IUPUC; Tracey Trottier, political science, IU South Bend; and Joshua Wells, sociology and anthropology, IU South Bend.
Established in 1989, FACET advocates for pedagogical innovation and advances faculty development through activities such as the Leadership Institute, FACET's Adjunct Faculty and Lecturers Conference, or FALCON, and the Future Faculty Teaching Fellows Summer Institute. Across IU campuses, FACET engages in peer review activities to recognize and develop teaching excellence.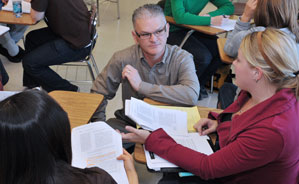 Ben Edmonds teaching a graduate class.