Graduating students earn statewide awards
Outstanding attributes mark these outstanding School of Education pre-service teachers
The attraction to science for this IU School of Education senior was immediate and impactful.
"I love science," said Michael Lathery, who just finished his student teaching at Avon High School with biology and honors biology classes. "I love everything about science."
With that much clear for quite some time, Lathery came to Indiana University well set on a college and career path.  He had a full-ride scholarship to go with that passion for science, and came to Bloomington intent on being a doctor. But soon after starting his four-year commitment as part of his scholarship to do research in a microbiology lab, he had another realization:  he didn't want to work in a lab. Though he loved science "I had no desire to spend the rest of my life doing science, per se," he said.
Fortunately for him, yet another epiphany was to come. Lathery enrolled in an IU School of Education communication in the classroom course that would count toward his biology degree. A new love began for education. While he spent time in science courses competing with other would-be doctors, he found a very different atmosphere in education classes.
"It was about 'How do we work together to be the most successful group of people that we can be,'" Lathery said of his first education class. "That sense of cooperation and working together for these kids really drew me in."
And it drove Lathery to switch majors, beginning a path towards becoming a teacher at the IU School of Education. Finishing up his work, he became one of the most outstanding graduating teacher education students in the state this year. He was one of five IU seniors selected as an "Outstanding Future Educators" by the Indiana Association of Colleges for Teacher Education (IACTE). Each received the recognition during the IACTE Recognition Day ceremony on April 12 in Indianapolis.
Each academic year, IACTE selects student teachers completing their teacher education programs who have demonstrated outstanding ability. Students are nominated by faculty and must submit a portfolio of work, receive recommendations, and demonstrate high ability through evaluations of their classroom work.
Lathery discovered once he entered the classroom, his teaching style came naturally. He tries to not just exhibit his exuberance for science, but share it in ways that will allow students to see it as exciting. "I try really hard in every lesson to teach science through a different lens," Lathery said. "I try to teach the history of science. I use a poem to start science class. I try and make sure we don't spend our time thinking about science in a box, because that's not the way that it exists, that's not the way we practice it."
The other graduating seniors noted as outstanding by IACTE are:
Danilsa Andujar, elementary education major:  Andujar just completed her student teaching assignment at Arlington Heights Elementary in Bloomington, where her supervisor said she showed on the first day that she was a special person. "Her overall demeanor from day one showed a 'take charge' attitude," the supervisor wrote in his recommendation. Andujar says her personal will to succeed is what drives her in the classroom and beyond. A member of the IU women's basketball team, she will be playing for the national team for the Dominican Republic this year (her family emigrated from the Dominican Republic when Andujar was five years old).
Adam Samuels, elementary education major:  Samuels has a deep level of content knowledge along with a great ability to engage young students, his student teaching supervisor said. Teaching at Lawrenceburg Primary School, Samuels earned the praise of colleagues and administrators for bringing an engaging style to a second grade classroom. His teaching supervisor wrote about being inspired by watching him conduct a math lesson titled "How Can We Use Measurement and Why Do We Need it?" Students jumped into a lesson that involved measuring things using a variety of units that included paper clips, cubes, and Goldfish crackers. "His content knowledge and dedication to the profession are truly outstanding," his supervisor concluded.
Maia Snyder, elementary education major:   Snyder is not only leaving the IU School of Education with an award, she is walking straight into a job offered during her student teaching. This fall she'll join the Carmel Clay School Corporation as a teaching assistant in the K-5 Title I program. To help her 4th grade students during her student teaching at Edgewood Intermediate School, she created student "book clubs" that enabled the students grouped by reading ability to help each other. She also created a new math flashcard teaching system the class adopted. Throughout her student teaching time, she became not just a valuable contributor in the classroom, but also a great liaison with student's' parents as well as a teaching colleague within the building. Her supervising teacher called her the "most outstanding student teacher she has had in her many years of teaching."
Kaylie Strukel, secondary mathematics education major:  A three-time University Division Scholar at IU, Strukel is teaching in Kenya for six weeks this summer as a participant in the IU School of Education's Cultural Immersion Projects. At Tri High School in Richmond, Strukel taught geometry, and assisted in calculus and pre-calculus.  "Her knowledge of math is superior," her student teaching supervisor wrote. "When she is teaching, she is able to focus on the students and their understanding of the concepts they need to know." Strukel engaged students by using technology to teach math, incorporating tools such as YouTube to help explain difficult concepts. Her supervisor wrote that she made math "interesting, nonthreatening, and even fun for her students."
IACTE is a state chapter of American Association of Colleges for Teacher Education (AACTE). AACTE is a national alliance of educator preparation programs dedicated to the highest quality professional development of teachers and school leaders in order to enhance PK-12 student learning.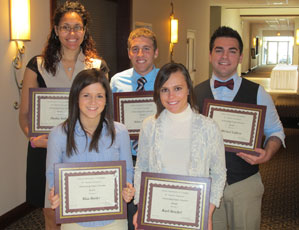 The students receiving awards from IACTE are, in back L-R, Danilsa Andujar, Adam Samuels, and Michael Lathery; in front, L-R, Maia Snyder and Kayli Struckel.