Associate Dean honored as Purdue Distinguished Alumnus
The College of Science at Purdue University honored Indiana University School of Education Associate Dean for Research Bob Sherwood with a Distinguished Science Alumni award. The College of Science at Purdue presented Sherwood with the honor during an awards banquet on April 12 in West Lafayette.
Sherwood earned his bachelor's degree in chemistry in 1971 and a master's in chemistry in 1973 from Purdue. Before going to Indiana University to earn his Ph.D. in science education from the IU School of Education in 1980, Sherwood was a secondary science teacher. He was on the faculty at New York University and Vanderbilt University as well as a program director for the National Science Foundation before joining the IU faculty in 2006.
In his role as associate dean for research, he supports the research done throughout the School on a variety of subjects by School of Education faculty.  His own research has long focused on ways to best teach science, particularly applying new technologies to improve science instruction. A particular Purdue faculty member, chemistry education professor Dudley Herron, encouraged Sherwood to expand his thinking about how students could learn science. Exploring issues of teaching science while learning about the subject itself became important to Sherwood early in his career, he said, particularly citing undergraduate research projects focused on education as her pursued a chemistry degree that allowed him to earn a teaching license. ""These experiences led me to value the importance of interdisciplinary work," he said in a Purdue College of Science release.
Over the years, Sherwood's published several works on science education. Some notable efforts at assisting science, mathematics, engineering, and technology (STEM) instruction include the NSF-funded video series the "Adventures of Jasper Woodbury," designed for middle grades that focuses on mathematical problem finding and problem solving. Another video series "Scientists in Action" is aimed at middle and secondary school science classes. That work grew out of his work in Vanderbilt's Cognition and Technology Group, which included cognitive scientists, assessment specialists and education faculty in science, mathematics, technology and literacy to develop technology-based instructional materials and conduct research to advance K-12 education. "This initiative resulted in work that has formed the basis for much of the problem-based/project-based instruction that is growing in use across the country," Sherwood said.
Sherwood is now the co-project director for the "Indiana Noyce Science Scholars" program, a joint venture of the IU School of Education and the IU College of Arts and Sciences. The NSF-funded program assists and accelerates the pathway from a bachelor's degree in a science or mathematics field to a master's degree in secondary education with a teaching license by providing scholarship money in exchange for participants teaching in a high-needs Indiana school corporation after earning their degrees.
More about the Purdue College of Science Distinguished Alumni award is available here, including Sherwood's biography page.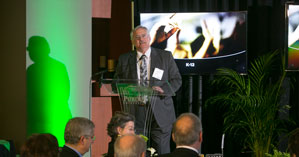 Sherwood addresses the Purdue College of Science alumni awards audience on April 12 (courtesy Purdue College of Science).