Outstanding Chicago-area alumna making early career mark
Danya Greenberg finalist for prestigious teaching award
Administrators in the Libertyville, IL Elementary School district have said it more than once—they just like to stick their heads in Danya Greenberg's classroom to watch how she teaches.

Greenberg, BS '09 with highest distinction from the IU School of Education, teaches in a 1st through 3rd grade special education classroom at Rockland Elementary School, part of the Libertyville (IL) Elementary School district in suburban Chicago. After completing just her third year there, she was a finalist for the prestigious 2012 Golden Apple Award for Excellence in Teaching, given to outstanding teachers in the Chicago area. Greenberg teaches in the Elementary Instructional Program, a special education program she helped implement in the district. She's known for creative ideas, including use of Promethean Boards, iPods, and iPads, to engage her students, and as you'll see in this feature video using computer and video technology to bring reading alive.


Greenberg earned her early-career honor as a Golden Apple finalist out of a pool of 560 nominations. The well-known Chicago-area award has honored teachers for 28 years. Greenberg was one of the youngest finalists named in 2012.

To get an idea of just what kind of impression she has made, you only have to hear from others who work with her. "Miss Greenberg creates an environment that nurtures student growth and allows children to take pride in their accomplishments," said Marilynn Menuey, director of special education for Libertyville Elementary District 70 in an article published by the Chicago Tribune. "It is inspiring to watch her engage her students in the excitement of learning."

"She creates a positive and nurturing environment for her students," said Libertyville Elementary District 70 Superintendent Dr. Guy Schumacher. "It is evident that the children love coming to school and genuinely love their teacher. It is an honor to have Danya on the staff. She brings much to the classroom, Rockland School, and District 70 as a whole."

The honor adds to a long list of accolades Greenberg has already received. The former vice-president and president of the Dean's Advisory Council at the IU School of Education, she earned the Indiana Association of Colleges for Teacher Education "Outstanding Future Educator Award" in April 2009. She also received the Indiana Reading Professors Council of the Indiana State Reading Association "Outstanding Future Reading Teacher" award in March 2008. Greenberg spoke at both the commencement ceremonies for her graduating class and the IU School of Education's 100th anniversary ceremonies in 2008.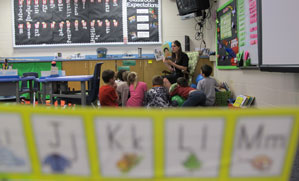 Danya Greenberg, BS'09, teaches in her classroom in Libertyville, IL.