Make-to-Learn event in Chicago allows educators to meet, make, and share creativity for classroom
It was an event part professional seminar, part meeting of kindred spirits, and part something like a convention of would-be MacGyvers (look here, or kids, ask your parents about TV shows from the late 80s). The "Make-to-Learn Symposium 2013" at the Sheraton Chicago Hotel and Towers on March 13 was a one-day event dedicated to placing making, creating and designing at the core of educational practice. It certainly did that, and probably renewed purpose for a few items found at the back of a desk drawer.
"I thoroughly enjoyed the Make-to-Learn Symposium," said Curt Lieneck, director of Information Technology at the University of Chicago Schools. "The organizers did a wonderful job of letting attendees play, invent, create, and imagine at the many maker stations available," he said. Then he added that he had more fun than a technology director might in most states be legally allowed to have. "I built a speaker from a Post-It note and a little bit of wire, a magnet, and some glue. I also made a stomp rocket from an empty pop bottle, some paper, duct tape, and an inner tube."
But more than simply something for fun, Lieneck also saw the big picture for educators. "Activities like these have always been a cornerstone of progressive pedagogy, and it is heartening to see the Maker Movement bringing these activities back into our schools and communities," he said. "I highly recommend the Symposium. It reminded me of why I became an educator and showed me how I could start thinking about maker spaces in my own corner of the world."
That was much of the idea behind this event, led by a committee based at Indiana University led by Kylie Peppler, assistant professor in the Learning Sciences department at the IU School of Education. Peppler has started the Creativity Labs, a research team focusing on learning through creativity. Make-to-Learn was a project of Creativity Labs and partners including the John D. and Catherine T. MacArthur Foundation. In 2011, MacArthur funded a project by Peppler focused on examining the development of systems thinking in middle school students through making; the resulting curriculum series is soon to be published by MIT Press. Make-to-Learn came the day before the Digital Media and Learning Conference in Chicago, making the event even more attractive to a large group of attendees.
For the full day, educators took all kinds of objects and ideas and focused on what they might make from them and what students might learn. Peppler said the single-day event grew from a desire from the MacArthur Foundation to have a an education-focused session growing from the larger "maker" movement, a technologically-focused segment of "Do-It-Yourself" (DIY) culture that emphasizes completing complicated tasks without help from a paid expert. She said maker movement ideas are particularly important in the re-envisioning of STEM (science, technology, engineering, and mathematics) areas. "Whether a teen is building a robot, designing a video game, knitting a sweater or crafting, there are a lot of complex STEM concepts undergirding each of these activities," she said. "You hear a lot of talk around tinkering and it gets us to not only think about how kids can learn STEM in the informal hours, but also how we can re-envision STEM education. Engineering schools are becoming reinvigorated by this Maker movement—there are even some folks up at Purdue that are teaching toy design in their mechanical engineering classes."
Aside from the hands-on activities, participants got advice and inspiration from Dale Dougherty, the publisher of "Make" magazine and the founder of the "Maker Ed" movement to infuse the maker movement into education. Panel discussions throughout the afternoon focused on key questions posed by the Make-to-Learn facilitators:
What are key learning outcomes of making and engagement in DIY culture?
What specific activities, tools, and environments help realize and enhance the learning potential of making?
How can we create DIY activities that appeal to a broad diversity of people, from many different backgrounds, and many
How has making and DIY culture been effectively integrated into educational institutions and practice?
What further research is needed to effectively advocate for the educational value of making?
More about Make to Learn is available on the project web site. Ongoing parts of the project include a youth contest open until April 15. You can see a gallery of pictures from the Chicago seminar here.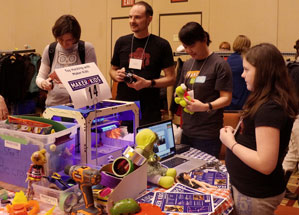 Participants during the Make-to-Learn Symposium in Chicago