SNAAP Conference brings context to survey
As a culmination of its first five years of research into the lives and careers of arts graduates, the Strategic National Arts Alumni Project (SNAAP) brought together educators, researchers, and artists to discuss the meaning behind the numbers and more.  SNAAP, a project of the Indiana University Center for Postsecondary Research in collaboration with the Curb Center for Art, Enterprise and Public Policy at Vanderbilt University, held its first-ever national conference in March. "3 Million Stories: Understanding the Lives and Careers of America's Arts Graduates," took place March 7 to 9, 2013 at Vanderbilt University in Nashville, Tenn.


The conference brought participants from across the country to discuss matters related to arts education and the careers of arts graduates. Over the three days, they heard from successful Nashville songwriters about their long road to success. The comedian, actor, and social critic Lewis Black gave his unique, sometimes acerbic take on what it took to make it in his career. And researchers shared insight to findings from SNAAP data and other research about arts graduates and their lives after departing school.

The Indiana University SNAAP representatives led sessions to shed light on SNAAP data and the issues they raise. George Kuh, Chancellor's Professor Emeritus and the founding director of SNAAP, moderated a panel on the skills and competencies developed through arts education and required for creative careers. And current SNAAP Director Sally Gaskill and Research Analysts Amber Lambert and Angie Miller held a session on what the SNAAP results mean for participating schools.

Participation in the annual SNAAP survey is open to all degree-granting colleges and universities as well as arts high schools. SNAAP launched in 2008 with a leadership gift from the Surdna Foundation with additional funds from  the National Endowment for the Arts, Houston Endowment and other funders. The project is based at the Indiana University Center for Postsecondary Research, School of Education, 1900 E. 10th St., Suite 419, Bloomington IN 47406. More information, including a copy of the annual report and an interactive SnaapShot based on the findings, is available on the SNAAP website.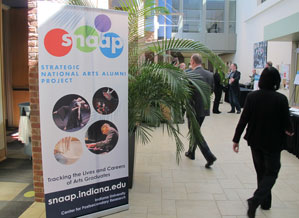 Participants during the SNAAP national conference at Vanderbilt University on March 8.