School of Education again in top tier of education programs; U.S. News ranks 7 specialty programs in top 25
The Indiana University School of Education is once again ranked among the country's top 20 schools of education in the latest U.S. News and World Report "Best Graduate School" rankings released today (March 12). The School is tied for 19th overall and 10th among education schools in public universities. Seven programs within the School are in the top 25 for specialty programs.

Complete rankings are available at www.usnews.com/grad. They will be included in the Best Graduate Schools 2014 guidebook, on newsstands April 9. Highlights were made available to colleges and universities in advance of today's release. 

In the individual program rankings, the IU School of Education ranks highly in seven categories. The rankings are:

Higher Education Administration--#9
Curriculum and Instruction--#10
Student Counseling--#11
Elementary Teacher Education--#11
Secondary Teacher Education--#12
Education Administration--#18
Educational Psychology--#21
"This is the 13th year in a row the IU School of Education has been ranked among the top 10 percent of education programs surveyed by U.S. News," said Gerardo Gonzalez, dean of the school. "There are about 1,500 colleges that prepare teachers and nearly 300 that are invited to participate in the national rankings, so this is no small feat. The credit belongs to Indiana University's world-class faculty and students, whose academic and research performance makes this possible year after year."
This is the second time in three months U.S. News has rated IU School of Education programs so highly. The School's online Ed.D., master's and professional certification programs were 14th in rankings that U.S. News released in January.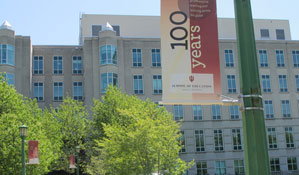 Wright Education building at IU Bloomington