School of Education professor Bonk to speak at event partnered with SXSWedu conference
Indiana University School of Education Professor Curt Bonk will speak twice during this week's SXSWedu conference in Austin, Texas. SXSWedu is the education portion of the famed South by Southwest festivals and conference that focus on music, film and technology and attract around 14,000 annually.

Bonk, professor of instructional systems technology and educational psychology at the IU School of Education, is author of the book The World is Open: How Web Technology is Revolutionizing Education. He also is adjunct instructor for the School of Informatics and a member of the Cognitive Science Program in the College of Arts and Sciences. In April and May 2012, Bonk delivered a free five-week massive open online course, or MOOC, about teaching online using "CourseSites" from Blackboard, a company that specializes in managing online and blended learning courses.

At 4 p.m. EST on Wednesday, Bonk will give a spotlighted presentation outlining his model for teaching and engaging online learners, the subject of an upcoming book he is writing to help instructors teach online and blended courses. The session, "Adding Some Jumbo Motivation to Online Courses and Activities with TEC-VARIETY Model," will also be offered live online through streaming video. Free registration for this talk is available through the session sponsor Cengage Learning here. Cengage is bringing the event to SXSWedu as part of Cengage Learning 2013. The session will include an interactive question-and-answer session at the end.

"There has likely never been a time in the history of humankind when learner motivation and engagement was so pervasively in the news," Bonk said. "The Cengage Learning 2013 event provides direction, insights and perspectives into this issue with scholars from across the country who I have been a fan of for years."

At 10 a.m. EST on Thursday, Bonk will face off with the University of Michigan's Chuck Severance, clinical associate professor at Michigan's School of Information. A MOOC Severance taught last fall for the online education company Coursera enrolled more than 44,000 students. As the former executive director of the Sakai Foundation and chief architect of the Sakai Project, Severance is considered a world leader in open source learning management systems. He and Bonk will debate the direction of MOOCs, in "Cage Match: The Massive Open Online Course Debate." The session is billed as a discussion in the style of sports television network ESPN's "Pardon the Interruption" program.

"MOOCs have arisen on the scene so suddenly during the past 18 months that university administrators, faculty members and support staff are having difficulty understanding the present state of MOOCs in terms of business plans, types of MOOCs, best pedagogical practices, assessment, credentialing and much more," Bonk said. "Every day a new issue seems to emerge in the news. In response, the Cage Match with Chuck Severance will lay out dozens of highly complex and important issues related to MOOCs. Using a rapid-fire pace, the debate forum will give the audience a perspective on MOOCs from the standpoint of two people who have not only taught one, but who have each been involved in developing and evaluating online le arning since the inception of the Web."

The sessions this week in Austin add to a long list of appearances Bonk has made in recent years. He estimates he has delivered nearly 1,300 presentations around the world at the intersection of education, psychology, technology and business. Such exposure helped Bonk make Education Week's Edu-Scholar Public Presence Rankings each of the list's first two years. Leading up to the Wednesday session in Austin, Bonk has written a guest blog post, "Adding some TEC-VARIETY to Online Teaching and Learning," for Cengage Learning as well as an article on MOOCs that appeared in two parts (Part 1, Part 2) in the EVoLLLution online newspaper for lifelong and nontraditional learning during the past week .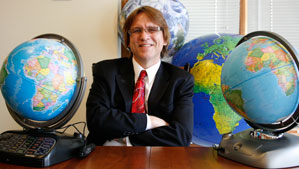 Professor Curt Bonk