Annual IST Conference brings lots of talk about ed tech
For the thirteenth year, the annual Instructional Systems Technology conference offered students, faculty, staff, and alumni an opportunity to talk about research, tools, and careers in IST. The annual event is a free student-run conference designed to give graduate students a safe venue to gain experience in presenting, organizing, and attending professional conferences. This year's theme for the event on Thursday, Feb. 28 and Friday, March 1 was "Embracing Diversity and Collaboration."
After the Thursday evening welcoming event, the full Friday conference schedule began with a keynote address from Allison Rossett, professor of educational technology at San Diego State University and a consultant in learning and technology. She gave a presentation titled "Mobile Learning and Performance." Rossett is a member of "Training" magazine's human resource development Hall of Fame and is on the board of the Elearning Guild and Chief Learning Officer.
Following Rossett's presentation, concurrent sessions throughout the day featured a wide array of subjects, including building online communities through online programs, exemplary teaching in mobile environments, and assessing learning for online courses. The various topics attracted not just students from on the IU Bloomington campus, but some taking advantage of the IST Department's distance programs.
"I wanted to meet my faculty," said Sonja Strahl, a student in the online EdD program, Indiana University's first entirely online doctorate. Strahl heads a computing department at National Louis University in Chicago. "I wanted to see them face-to-face. I've seen pictures of them, I've talked to them on the phone, but I think it's nice to actually meet them face to face but I think it's nice to sit down with them and talk about where I'm going and where I can go and what IU can help me with."
But aside from the chance to have in-person discussions with faculty, Strahl made the drive from Illinois to get a palpable sense of being in the IU community. What impressed her about the conference was the opportunity it presented for IST students. "When I was forced to present for my first presentation, it's was very nervewracking," she said. "So I think the key thing is to be supportive of the students who are here, giving their presentations, showing their research, their work, and I think that is really fabulous for the school."
The conference attracted Brad Berggoetz, a student in the online IST certificate program who lives in Indianapolis, a former teacher now an applications support analyst at an auto auction business. He said the conference provided a chance to hear and see in person about the things that attracted him to the online IST certificate program. "I'm interested in how to develop quality learning tools," he said. "I taught deaf and hard of hearing students for a number of years and I have a master's degree in that. And I feel like I'm a decent teacher and I like to teach people concepts and ideas, but I also love technology and this is kind of a combination of both worlds.
More information about the conference, including some archives of video and presentation material is online at the conference site. You can watch video of the job panel at this link. Complete abstracts of conference presentations are available here.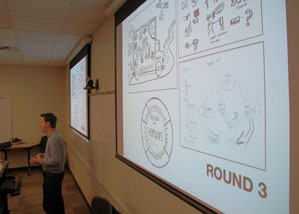 IST graduate student Colin Gray making a presentation called "Informal peer critique and the negotiation of habitus in a design studio."