School leaders get on to business in latest Partnershare session
Promoting good leadership on every level demands understanding leadership in many different environments. That's one of the underlying ideas behind the latest meeting of the Indiana Public School/University Partnership, also called "Partnershare."
Partnershare formed to stimulate school improvement by bringing together researchers from IU and educators from many of Indiana's public school corporations to share information and ideas for the advancement of education. On Thursday, Feb. 28, the members spent the day at the IU Kelley School of Business to hear what business analytics might offer for education. Given the demands on educators to demonstrate classroom performance, many of those who attended figured it could offer valuable insight.
"Education has changed so dramatically," said Jeff Butts, President of Partnershare and the Superintendent of MSD of Wayne Township in Indianapolis. "When we had the opportunity through Partnershare to really spend quality time in the Kelley School of Business working with the very best executive leadership training modules and utilize those in the education sector, we found that to be a very exciting opportunity for us."
The introduction to business analytics came from Kyle Cattani, associate professor of operations management at the Kelley School. He spent much of the morning giving these Indiana educators the view of Japanese business leaders.
"I think Toyota provides a great example of a company that manages data really well and do a good job of data analytics," Cattani said. He explained in some detail the thoughts behind Toyota's management style, down to the design of a vehicle assembly line and the exacting way employees are trained to handle their duties. "We'll contrast that in the afternoon with medicine, where similar abilities to process data and analyze it don't exist. So business analytics is the ability to transform data into thoughtful decisions."
Cattani's role was to present the examples. The education leaders are expected to figure out how to incorporate some of those examples into practice. Butts said it's time education administrators began speaking a language of business analytics more comfortably, noting that while there's a great difference between producing a product and educating a child, there are different ways of thinking about how to best organize that process.
"The thing that becomes critical is systems and culture," Butts said. "That's what we've heard a lot about today. Because no matter what your product is or what your outcomes are, there's a process by which you get there."
"There's a big difference in an assembly line and a school," Cattani said. "But there isn't a big difference necessarily in how management teams process information, look for flags where things are going wrong, how they respond, and what's the appropriate technique to interpret and respond to the information."
Participants also heard from IU School of Education professor of educational leadership and policy studies Gary Crow about the recently-started Effective Leaders Academy, another partnership of the School of Education and Kelley. SmartIT Solutions made a presentation about its information technology services for schools during a lunch it sponsored for the Partnershare meeting. The next Partnershare symposium will come in November.
For more information about Partnershare, contact Barbara Erwin, executive director of the Indiana Public School/University partnership at bajerwin@indiana.edu.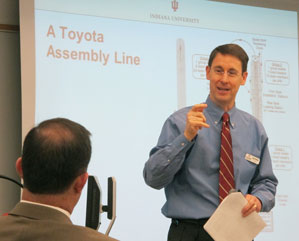 Kyle Cattani, associate professor of operations management at the Kelley School, makes a presentation about the Toyota corporation's use of business analytics.