Incoming teacher education student produces winning video about "Why I Choose to Teach"
The Indiana Association of Colleges for Teacher Education and the Indiana Student Education Association have selected a video produced by Indiana University Bloomington student Megan Van Pelt as the winner of this year's "YouTube Video Sensation Contest."  Van Pelt, a sophomore from Noblesville who will enter the IU School of Education as an elementary education student in the fall, was selected as creating the best video on the theme of "Why I Choose to Teach."
Of the top five videos selected for the contest finalists, three are produced by future teachers who are now or will be students at the IU School of Education. Other finalists included Stephanie Lugassy, a senior who entered as a Direct Admit Scholar and is in the "Teaching All Learners" program. She will do student teaching through the Cultural Immersions Project. IU Bloomington student Matt Moore, who is applying to the IU School of Education, also placed.
In winning the contest, Van Pelt earned an IPad, but said she made the video mostly to share the word about why she thinks teaching is a great profession for young people to consider. "I know that the video was supposed to be encouraging kids to be teachers, so I figured making a storybook would be a good way to do that," she said.
Van Pelt took what she described as "millions" of pictures, featuring drawings and crafts she did to illustrate an original poem she wrote about how teachers can inspire and motivate as students learn. She completed the video using her IPhone and editing with IMovie software.
"It really just came from the heart," Van Pelt said. "I want to be a teacher and I just want to spread my passion of teaching." She plans to become a second grade teacher. Van Pelt said her passion for teaching started a long time ago. "When I was little, I would make my sister play school with me in the basement," she said.
All of the five finalist videos will be played on a television screen outside the Indiana Statehouse office of state Superintendent of Public Instruction Glenda Ritz later this spring.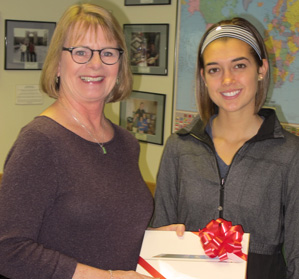 Jill D. Shedd (L), Assistant Dean for Teacher Education and IACTE Executive Secretary, presents Van Pelt with an IPad for winning the IACTE/ISEA video contest.