10th Annual MLK Activity Day marks celebration at School of Education
On January 21, 2013, the IU School of Education hosted its 10th annual Martin Luther King, Jr. Activity Day, the latest successful day of learning, play, and creativity for children invited from area agencies serving children and families. The project started 10 years ago by Senior Clinical Lecturer Leana McClain brings the children to the Wright Education building for a day of activities surrounding education and the message of Dr. King. Activities included science, math, crafts, music, and a room devoted entirely to the movement towards civil rights.
The day is a project organized and carried out by the Dean's Advisory Council at the IU School of Education. All of those involved are faculty, staff, students, or alumni of the School. Current IU School of Education students who are preparing to become classroom teachers help run each of the activities throughout the day.
This year's event included a new science room organized by Stacy McCormack, a 1999 graduate of the IU School of Education and the 2011 Indiana Teacher of the Year and a teacher at Penn High School in Mishawaka, is the Indiana recipient of the Presidential Award for Excellence in Mathematics and Science Teaching for teaching science. Another alumnus assisting this year was Daniel Eliot, now adjunct faculty at Temple University, where he works for the Center for Social Policy and Community Development. Eliot worked with McClain to start the first MLK Activity Day a decade ago.
You can see pictures from the day on the IU School of Education Facebook page here. To see a short video and hear from the participants, visit our YouTube channel here.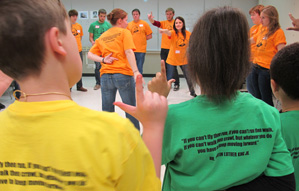 Participants at the 10th annual Martin Luther King, Jr. Activity Day at the IU School of Education in the music room.