School of Education to mark Martin Luther King, Jr. day
Drama and kids events bring participation from SOE students, faculty, staff
The annual MLK Activity Day at the Indiana University School of Education and a special theatre project involving School of Education students are among the events marking the Martin Luther King, Jr. holiday.
On Sunday, Jan. 20, there will be a presentation of "Catalyst: An Emergent Theatre Project Inspired by Dr. Martin Luther King," at 4 p.m. in the Whittenberger Auditorium of the Indiana Memorial Union, 900 E. Seventh St. The purpose of the presentation is to express what it means to live in a pluralistic society. The public is invited to the free performance. After the performance, there will be a cast talk-back and light refreshments served.
Eric Love, Director of the IU Office of Diversity Education, created the collaborative theatre project and developed the project with Gustave Weltsek, Ivy Tech Assistant Professor of Humanities and adjunct professor with the Indiana University Theatre Department facilitating the Drama and Theatre Education licensee program with the School of Education. Four School of Education students are participating—three in the Theatre education license program and a graduate student in the teaching English as a second language program.
Students from the Bloomington Ivy Tech campus and IU students have engaged in a series of theatre workshops facilitated by several different theatre educator artists over the last three months. "Students explored the ways race, ethnicity, prejudice, class, gender, and religion affect their lives," Weltsek said. "We used arts-based engagements such as dance, voice, visual arts, media arts, applied theatre and Theatre of the Oppressed strategies to explore these complex and sometimes tension-filled issues. These explorations became the bases for the creation of our original production. "
On MLK Day on Monday, Jan. 21, the School of Education will host the annual Martin Luther King, Jr. Activity Day. The 10th annual event will provide an opportunity for elementary-age students from the community to participate in a variety of educational activities at the Wright Education building 8:30 a.m. to 3:15 p.m. All of the activities are centered on the teachings of Dr. King and the message of peace and understanding. To see more about the event, check out this short video from the 2012 MLK Activity Day.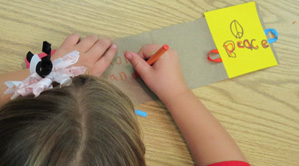 A student working on a project during the 2012 MLK Activity Day at the School of Education.